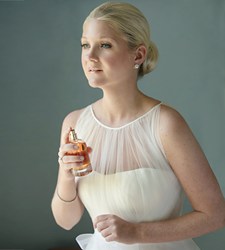 "My style is clean and glamorous, with an emphasis on candid expression. I want the photographs to capture the energy of the moment."
Greenwich, Connecticut (PRWEB) July 23, 2013
Melani Lust Photography was voted Best Wedding Photographer for the fourth consecutive year in Moffly Media's annual Best Of The Gold Coast edition (July/ August 2013).
Readers of Greenwich, New Canaan - Darien, Stamford, Westport, Fairfield Living and atHome magazines cast their votes for the very best that Fairfield County, CT has to offer in categories ranging from dining to fashion to education. A celebration will be held honoring the winners on Thursday, July 25th from 6:30 until 9:30 pm at the Stamford Hilton. The evening will feature the culinary and creative talents of the 2013 winners.
The brides she works with praise her professionalism and the timeless beauty of her photographs which truly tell the story of their wedding day. "My style is clean and glamorous, with an emphasis on candid expression. I want the photographs to capture the energy of the moment." Lust's attention to detail and understanding of classical composition inform the sophisticated photographs she creates.
Melani Lust appreciates the importance of a wedding day. During the bridal portrait session she excels at involving the bride and in making her feel comfortable, "It's important that the bride feels as beautiful in front if the camera as we all see her that day." Lust's bridal portraits are truly gorgeous. "I see such profound beauty in each bride."
In addition to her eye for beautiful details and exquisite composition, Melani Lust emphasizes a strategic use of lighting,"I create soft light with the use of sheer curtains, diffused Canon flash units, portable Elinchrom heads and video lights at night." The result is heirloom quality photographs which will preserve the memories of one of the most important moments in the family history of the brides and grooms she works with.
Melani Lust is a world renowned wedding & lifestyle photographer based out of Connecticut. She has been shooting professionally for more than eight years and has traveled the world on assignments for her discerning clients. She was trained as an art historian and received both a BA in Art History and a MA in Fine Arts from NYU.
Melani Lust's work has been featured in publications worldwide including the covers of Connecticut Bride and Westport Magazine, Town & Country, Grace Ormonde, Greenwich Magazine, Architectural Digest, Stamford Magazine, Style Me Pretty, and many regional wedding magazines. Her photographic exhibition in Cuba in 2010 brought her international acclaim. She is available for commissions worldwide for 2014 and 2015.