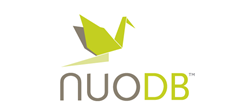 Any innovative operational DBMS must provide intelligence to enable real-time decision making while their customers are still on their website making purchases or evaluating products.

Michael Waclawiczek, VP Marketing, NuoDB
Cambridge, Massachusetts (PRWEB) July 23, 2013
German software producer combit and NuoDB, Inc., the industry leader in NewSQL, announced a technology partnership today. By integrating combit's award-winning reporting tool, List & Label, with NuoDB, customers will benefit from a seamless approach to reporting of operational intelligence in their NuoDB operational database.
"Providing support for NuoDB opens a quick and easy way for our customers to migrate their data to NuoDB while re-using their existing reports", states Jochen Bartlau, Managing Director of combit. "On the other hand, NuoDB users can now quickly enhance their applications with powerful reporting functionality."
combit plans to provide seamless connectivity for all upcoming versions of the report generator and the NuoDB NewSQL solution. An even closer integration is currently in development, "We are thrilled about this new technology partnership and intend to deepen it in the future," concluded Jochen Bartlau.
"Increasingly CIOs are asking their traditional OLTP databases to do more," stated Dr. Michael Waclawiczek, Vice President of Marketing and Operations at NuoDB. "The new requirement is for an innovative operational DBMS that provides intelligence to enable real-time decision making while their customers are still on their website making purchases or evaluating products. We have partnered with combit to provide joint customers a flexible, embeddable report generator that is a natural extension of our real-time operational intelligence technology."
About combit
The core competence of combit, based in Constance, Germany, is the development and distribution of developer components, Windows standard software such as business solutions and corresponding services as training, consulting and customizing. Since 1992, combit has achieved brand name recognition with award winning report generator List & Label, used by thousands of development teams and millions of end users world wide.
With List & Label software developers extend their applications with powerful reporting functions and have access to every kind of data processing and data exchange, in classic applications as well as in web reporting or in the cloud. In comparison to other reporting tools, List & Label offers the greatest flexibility regarding evaluable data types, supported programming languages and the number of export and barcode formats. http:// The List & Label Designer is available in multiple languages and can be integrated in the application without additional royalties so that also end users can create reports.
About NuoDB
Everyday businesses face serious challenges coping with application performance, maintaining business continuity and gaining operational intelligence in real-time.
NuoDB leads the industry with a proven NewSQL solution to solve all these challenges. It provides a unique combination of scale-out performance, zero downtime and geo-distributed data management. It's an operational DBMS to handle transactions, interactions and observations anywhere.
Launched in 2010 by industry-renowned database architect Jim Starkey and accomplished software CEO Barry Morris, the company is based in Cambridge, MA. Used by thousands of developers worldwide, NuoDB's customers include automotive after-market giant AutoZone, NorthPoint Solutions and other innovative companies.
The company is the recipient of numerous, prestigious industry awards including: Gartner Cool Vendor and The Red Herring Top 100. http://www.nuodb.com