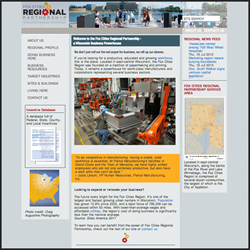 "We know that our website is the single most likely way that relocating and expanding companies from outside the region will learn about us," said Larry Burkhardt, CEcD, and executive vice president, Fox Cities Regional Partnership.
Fox Cities Region, Wisconsin (PRWEB) July 23, 2013
The Fox Cities Regional Partnership is six months into a five-year initiative to bring 1,200 family-sustaining jobs into the region. This follows from the creation and funding of the new regional economic development organization in 2012.
In order to meet its goals, the Fox Cities Regional Partnership hired key staff and recently launched a new GIS-enabled website, http://www.foxcitiesregionalpartnership.com. "We know that our website is the single most likely way that relocating and expanding companies from outside the region will learn about us," said Larry Burkhardt, CEcD, and executive vice president of the Partnership. "Having a powerful, data-rich website attuned to the needs of site selectors positions us as a region that is serious about driving economic growth."
The Partnership chose an award-winning website development firm, Ady Voltedge, that specializes in economic development websites and also provides site selection services.
The Fox Cities Region, comprised of Calumet County, Outagamie County and the northern half of Winnebago County, in east central Wisconsin, has a labor force of 796,206 within 50 miles including 124,418 within the region itself.
Not only is the labor force large but it's growing at a faster rate (2.2% over the past five years) than either Wisconsin (0.5%) or the US as a whole (1.4%).
The region is also well known for its workforce productivity. "To be competitive in manufacturing, having a stable, solid workforce is essential. At Pierce Manufacturing's facilities in Grand Chute and the Town of Menasha, we have highly skilled employees who are not only extremely productive, but also have a work ethic that can't be beat," said Jodie Larson, VP Human Resources, Pierce Manufacturing, Inc.
The growth will be powered by several industry clusters that are particularly strong within the region. Those include advanced manufacturing, food processing, regional office/back office operations and transportation/distribution.
In fact, manufacturing occupations account for 19.43% of the region's employment, providing 22,172 jobs. And the region's economic environment has been resilient; manufacturing within the Fox Cities Region outpaced expectations by national growth and industry mix share by 1,719 jobs. Most of the output manufactured in the region is exported outside the area, generating wealth for Fox Cities.
Supporting the workforce is world-class employer training provided by Fox Valley Technical College, which serves about 50,000 people annually, including over 1,600 employers with over 24,000 employees via contracted training each year.
As an example, Ben Sagan, Vice President of Sales, KUKA Robotics Corporation said, "We were attracted to working with Fox Valley Technical College because of their technology, professionalism and dedication to hands-on learning. We really wanted to link up to a place that focused on applications-based learning."
While the new website is gaining a lot of attention, it is just one of several strategies that the Partnership is spearheading to create awareness of the region and its business advantages. "We've already met with dozens of our local employers, a great source of potential relocation prospects, and have participated in several national site selector events and industry trade shows," said Burkhardt. In fact, the Partnership is already working on nearly a dozen projects from prospective relocating and expanding companies.
"There's a lot of momentum in this region, and a lot of interest in sharing our story with other companies who could benefit from our labor force, work ethic, training and pro-business policies," said Burkhardt.
About Ady Voltedge:
Ady Voltedge serves two distinct but complementary audiences. We provide economic development organizations (EDOs) with strategy, positioning, branding and related marketing implementation services. We provide expanding and relocating companies with location strategy services, from workplace and workflow strategy through site selection, real estate and portfolio optimization, and project management.
Our client and service mix is intentional and benefits both our EDO clients and our corporate clients. Our work with corporate clients helps ensure that our recommendations to EDOs for retaining, expanding and attracting businesses are practical and effective. Our work with EDOs helps ensure that our knowledge of locational assets is current and in-depth. Connect: http://adyvoltedge.com, http://adyvoltedge.com/blog/, LinkedIn or on Twitter @AdyVoltedge.
About Fox Cities Regional Partnership:
Fox Cities Regional Partnership is an organization committed to helping businesses locate and expand in the Fox Cities Region, and supported by public and private sector partners from around the region. Located in eastcentral Wisconsin, along the banks of the Fox River and Lake Winnebago, the Fox Cities Region is comprised of several dozen communities, the largest of which is the City of Appleton. Learn more at: http://foxcitiesregionalpartnership.com.