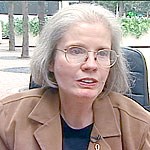 The POLST provisions of H.R. 1173 should be amended to fund independent research to answer the serious questions and concerns that many have raised.
Houston, TX (PRWEB) July 23, 2013
Not Dead Yet President and CEO Diane Coleman has submitted video and written public comments to the Institute of Medicine's (IOM) Committee on Approaching Death for its July 22-23 meeting being held at the Texas Children's Hospital in Houston. The public comments raise concerns about the implementation of Physician Orders for Life-Sustaining Treatment (POLST). Not Dead Yet has twice previously submitted comments to the Committee, previously called the Committee on Transforming End-of-Life Care.
According to the IOM website, "The IOM Committee on Approaching Death: Addressing Key End of Life Issues will hold its third meeting on July 22 and 23, 2013 in Houston, Texas. There will be a public session on July 22 featuring panel sessions on ethics and spirituality. The public session on July 23 will focus on empirical and legal issues surrounding POLST (Physician Orders for Life-Sustaining Treatment)."
Public comments are limited to approximately five minutes, so Coleman has submitted a video focusing on two of the concerns raised in her longer written comments. The video comments address the dangerous and inappropriate use of POLST with people who are disabled but not terminally ill, and the bias against life-sustaining technologies conveyed in the way the POLST forms are presented by health care providers.
In her spoken comments, Coleman informed the Committee of a recent article in the Pew Trusts' Stateline about POLST (New End-of-Life Measure Quietly Sweeps the Nation, June 20, 2013) which quoted her and reflected her concerns as follows:
"'How do we know the POLST medical order actually reflects the desires of the individual?' [We worry] that depending on how POLSTs are presented, they can make life-sustaining treatments—such as the use of feeding tubes—seem unbearable, even though many disabled people are able to live full lives because of them."
In her more extensive written comments, Coleman called attention to documented evidence of problems from various states that have implemented POLST, including a Delaware state order discontinuing the use of POLST, and a February 2013 report from Disability Rights California entitled, The Deadly Failure of a Hospital to Follow a Patient's Decisions About his Medical Care.
Coleman also addressed POLST provisions contained in a new federal bill called the "Personalize Your Care Act" that was introduced on March 14, 2013, by Representative Earl Blumenauer (D-Oregon):
"[The bill] would provide Medicare funding for physicians to have a conversation with their patients about "end-of-life care." If done well, we agree that such a conversation can be a good thing, and I object to the 'death panel' accusations that obstructed rational discussion of such a provision in the Affordable Care Act.
"But there's another section of the new bill, H.R. 1173, that would provide grants to promote POLST across the country. If we can conclude anything from the current level of information we have about how POLST is being implemented in the states that have it, it's that many questions remain unanswered, strong reasons for concern exist, and federal funding to promote POLST is premature. The POLST provisions of H.R. 1173 should be amended to fund independent research to answer the serious questions and concerns that many have raised. That's what the Institute of Medicine and this Committee should support."