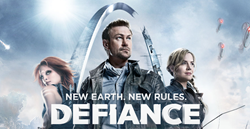 Los Angeles, California (PRWEB) July 25, 2013
Hollywood Production Center is excited to announce the signing of two new tenants at its state-of-the-art Los Angeles-area production facilities. These tenants have agreed to lengthy leases that will continue through early 2014 and will begin work at Hollywood Production Center during the coming weeks.
In keeping with its long tradition of support for NBCUniversal's SyFy Network, Hollywood Production Center will host the cast and production team of the breakout Defiance. Released to much fanfare in April of 2013, the show garnered tremendous critical praise and earned about 3 million viewers for its premiere. With a $100 million budget, the property was one of NBCUniversal's biggest releases of 2013.
Defiance chronicles the struggles of humans who must survive on a radically altered future Earth that features unfriendly topography, a dearth of benign flora and fauna, and an alien species with questionable origins and motives.
Hollywood Production Center looks forward to maintaining a long, fruitful relationship with the cast and crew of Defiance. The show's recently ordered second season will film at Hollywood Production Center over the next several months and is currently scheduled to debut on SyFy in June of 2014. In light of the online video game tie-in on which Defiance's producers are working, Hollywood Production Center is currently exploring its options for extending this run even further.
Another exciting new tenant will be taking up residence at Hollywood Production Center during the coming weeks. The Game Show Network will conduct casting and production for The Chase at Hollywood Production Center's state-of-the-art facilities and will continue its run for at least two seasons. Based on a popular British game show of the same name, The Chase will be anchored by host Brooke Burns and quiz maven Mark Labbett. ITV Studios is responsible for the show's American production and distribution duties.
In addition to these two new tenants, Hollywood Production Center continues to provide support and production space for a CW television series known as The Originals. As a spin-off of The Vampire Diaries, The Originals follows a group of vampires who live in New Orleans. Its newest season debuts on October 15. Hollywood Production Center is also in the process of hosting filming activities for Monogram Pictures's All I Want for Christmas.
About Hollywood Production Center
For well over a decade, Hollywood Production Center has provided on-demand production, editing and consulting space for the entertainment industry's most prominent innovators. With flexible lease terms and turnkey production suites that feature state-of-the-art amenities and appliances, the company has dedicated itself to supporting its clients in every way possible. Hollywood Production Center is proud to facilitate casting calls, pre-production creative work, filming, recording, editing, post-production, consulting and more. In fact, Hollywood Production Center offers customized occupancy plans that maximize creativity and convenience while minimizing unforeseen delays or complications. From feature films to long-running television series, Hollywood Production Center's four Southern California facilities have hosted a slew of recognizable names and continue to attract new tenants from all corners of the industry.
Hollywood Production Center's production suites come fully appointed with modern kitchens, on-site cafes, in-house personal training facilities, and high-speed data, phone and Internet connections. To learn more about leasing production, consulting or executive space at Hollywood Production Center's Hollywood or Glendale locations, call 855-737-7534 or visit http://www.hollywoodpc.com today.