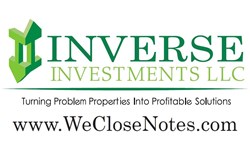 This event both leveraged and fostered relationships between coaching students and investors across the country to take more property down...and they did.
-Scott Carson
Austin, TX (PRWEB) July 23, 2013
The Inverse Investments Note Buying Mastermind began by the note buying students going through a pool of 385 property notes. Scott Carson, CEO of Inverse Investments personally conducted the entire mastermind event. He hand-picked 50 of the 385 property notes and students chose from them one by one until they were gone. By the end of the mastermind the students made 90 offers on that pool alone.
When asked how many of those offers he thought would be accepted Carson said, "I have been buying notes long enough to know what a good offer is and what a waste of time looks like. I don't allow my students to waste their time. When my students make an offer, they know that they have a very good chance of having their offers accepted."
The majority of the notes students made offers on will go for less than 50% of the property value. When asked what factors a "Note Buying Investor" should consider when making on offer Carson said, "There are a number of factors a Note Buying Investor should take into consideration. There needs to be an understanding that foreclosure laws and economic factors differ from state to state. A property may pay off very quickly or it could take up to two years before the foreclosure process could complete. Those are just a couple of the factors one should take into account when buying notes."
"Some of these residents just need a flexible program to help them out. I have helped people that were trying to get a loan modification for a year and a half before I bought the note. Larger organizations are simply not versatile enough to do what Inverse Investments can do or what our students can do," says Carson.
Scott Carson teaches his students how to "do more deals." Depending on their exit strategy they can quickly flip the notes, partner up with other investors or just by the note themselves. Although the decision is theirs, Carson makes sure they know his recommendation.
Carson spared no expense on the resources he brought to the mastermind. He brought in Tim Levy of Tim Levy and Associates, Aaron Young with Laughlin Associates, Joel Markovitz of NuView Financial and Samuel Sadler of elleven marketing group. Aaron Young, CEO of Laughlin and Associates commented, "When Scott Carson invited me out I was intrigued. I was really busy with a hundred other things but I fit this mastermind in and I am glad I did."
Carson also surprised his students by purchasing press releases for each of the students that were present at the mastermind through elleven marketing group as an added bonus to help his students build their businesses.
Inverse Investments will also be at the Real Estate Investor Expo in Chicago July 27-28 and will sponsor a class taught by Scott Carson himself on Note buying from the "Note Buying for Dummies" series.