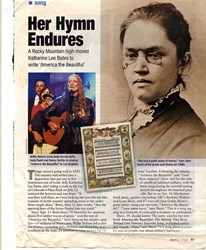 The most beautiful things in the world are not seen nor touched. They are felt with the heart.

—Helen Keller
(PRWEB) July 25, 2013
AncestorEbooks.com, a business created by Cristina Besendorfer for the sharing of Family History with today's youth, speaks out about the achievements of women throughout July.
On July 8, 1873, Anna Nichols, of Melrose, Mass. became the first woman to become a patent examiner.[bit.ly/1625v4D] after passing a scientific examination to qualify. [bit.ly/18xJFpT] As a patent examiner, Nichols would have searched for earlier patents on similar inventions. She joins the ranks of Thomas Jefferson who worked in the U.S. Patent Office and Albert Einstein who worked for the Swiss Patent Office. [bit.ly/18ADgxM]
Sarah Goode, a Chicago furniture store owner, became the first black woman to receive a patent on July 14, 1885. She received her patent for an improved cabinet bed.
On July 23, 1906 Katherine Lee Bates copyrighted the song "America the Beautiful". [bit.ly/1625v4D] The song was written in 1893 as Bates traveled from Massachusetts to Colorado for a teaching position. [abcn.ws/15dCqlN] Lynn Sherr, ABCNEWS correspondent and author of the book America the Beautiful: The Stirring True Story Behind our Nation's Favorite Song, said, "I think it's simple, I think it's emotional, and I think it talks about a country, a land and its people — not just about a flag, not just about a battle. It doesn't talk about conquest. It talks about the possibilities of this nation."
Sherr continued, "She (Katherine Lee Bates) was boundlessly optimistic and infinitely patriotic but it was not a blind patriotism. She was on a train going through Kansas on the Fourth of July in 1893 and she saw wheat waving in the wind, golden wheat... She got to Colorado. She saw the Rocky Mountains, purple gorgeous mountains... This trip was giving her fodder for the greatest poem she would ever write."
In recent years, there has been lobbying for "America the Beautiful" to replace Francis Scott Keys' "Star Spangled Banner" as the National Anthem. [abcn.ws/15dCqlN]
On July 25, 1876, Emily Tassey was granted a patent for inventing an apparatus used for raising sunken vessels. She lived in McKeesport, Pennsylvania, an important boatbuilding town on the Monongahala River. Although the patent for the apparatus to raise sunken vessels was her first patent, five months later in December of 1835, Tassey received three more patents, one for an improvement in siphon propeller-pumps, one for Propulsion of vessels, and one for a dredging machine.
On July 25, 1795, James Barry, a woman disguised as a man, became the Inspector General of Military Hospitals. James Barry started out life as Margaret Ann Bulkley, niece the famous Irish Artist James Barry. [bit.ly/1c03vMY]
Sophia Bishop, a maid from Barry's place of residence, discovered the truth that Barry was actually a woman while preparing the body for burial,. For more than 100 years, Barry's service records were locked away.
Dr. Michael du Preez, a urologist from Cape Town South Africa, first heard the story of Dr James Barry, Inspector General of Military Hospitals as a child. Upon retiring in 2001, he began to find evidence to solve the mystery conclusively. Du Preez discovered among a collection of papers involving Dr. Barry that it was a conspiracy between Margaret Ann Bulkley's mother and some of her uncle's (celebrated Irish artist James Barry) influential friends to get Margaret Ann Bulkley through medical school.
James Barry entered the University of Edinburgh in 1809 and qualified as an MD in 1812 and enlisted in the British army. "While in Cape Town, Margaret went beyond the call of duty by attempting to oversee every aspect of the medical system, from the inspection of drugs for sale to the checking of hygiene levels in jails." She also introduced smallpox vaccination to Cape Town, twenty years before it was introduced in England. (Mná Na HÉireann: Women who Shaped Ireland)
Amelia Earhart was born on July 24, 1897. She was a teacher, social worker, aviation pioneer, and the first woman to receive the Air Force Distinguished Flying Cross, finished third in the inaugural 1929 Powder Puff Women's Air Derby.[bit.ly/13auuhS] That year she helped start a famous organization called the Ninety-Nines which is today known as The Ninety-Nines, INC. International Organization of Women Pilots. [bit.ly/10IvQc]
On July 2, 1937, Earhart and her navigator, Fred Noonan, disappeared during an attempt to fly around the world. No trace of their plane, the Robert C. Lake, was found.
"July, just as every month, has important events to share. Historical events need to be cataloged, remembered, and celebrated. If you have stories of heroes and heroines that are particularly important to your family, celebrate them. Create a family ebook that will allow events to be remembered for many more generations," says Gayla Mendenhall of AncestorEbooks.com