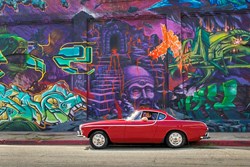 "New Hampshire has the friendliest drivers," said Gordon. "Drivers are courteous. They'll switch lanes with their turn signals, let me merge, and even wave at me. It's a friendly, beautiful state."
Rockleigh, N.J. (PRWEB) July 24, 2013
Few have seen the United States from the same perspective as Long Island native and retired science teacher Irv Gordon, the first person to drive almost three million miles in the same vehicle, a shiny red 1966 Volvo P1800.
While Gordon has driven his record-breaking Volvo in nations around the world, the vast majority of miles were logged traveling America's interstates and highways. The 47-year journey has given Gordon countless experiences with the culture, food and amenities in thousands of U.S. towns – large and small.
As he prepares for the final miles of his quest, Gordon shared a few of his favorite experiences and locations across the United States, being sure to exclude his native New York from the list for objectivity's sake:

Favorite state for juicy steaks: "Missouri. There are a couple of steakhouses just off of I-70 heading toward Kansas that have the thickest, juiciest steaks."
Cleanest restrooms: "Rest stops and welcome centers are always better than gas stations and fast-food restaurants. I've always thought the Southern states –– particularly Virginia, the Carolinas, Alabama and Mississippi –– had the nicest rest stops."
Friendliest drivers: "New Hampshire has the friendliest drivers. I'm well out of New York's busy highways by then, and it seems like I leave the stress at the state line. Drivers are courteous. They'll switch lanes with their turn signals, let me merge, and even wave at me. It's just a friendly, beautiful state."
Steepest roadways: "The longest and steepest drive was Priest's Grade in California, heading up to Groveland and the entrance to Yosemite National Park. Jugs of water are waiting at every turn due to the number of cars that overheat on this scenic and remote road."
Best southern cooking: "New Orleans. The jambalaya is authentic and spicy."
Best clam chowder: "Cape Cod. They use lots of melted butter, corn and potatoes. I worked four summers in Cape Cod during college, so I'm a bit prejudiced."
Best state barbecue: "The style and taste of barbecue varies state-to-state, but with Knoxville, Chattanooga, Nashville and Memphis each offering their distinct flavors, Tennessee has the overall best barbecue. And, among the Tennessee versions, Memphis is tops."
Smoothest rush-hour traffic: "There are no big cities with smooth rush-hour traffic, but if I had to name one city as the 'least worst,' it would be Portland, Ore. Their traffic flow seems to be in fairly good order there."
Best city to drive through at night: "Chicago. It's so jammed during the day, so you never appreciate the beauty of that city by the lake. At night, the Midwest skies are clear and the city looks like a portrait. Minneapolis is not as big, but it's a close second."
Favorite small town: "Green River, Wyo. It's an isolated town, off I-80 on the way to San Francisco. Every time I make that drive, I always stop there. I don't know anyone in Green River, but the people are extremely friendly and the town seems like a wonderful place to live."
Best cup of coffee: "Nothing gets my blood going like an early morning visit to any roadside Waffle House for a cup of coffee, although I've never had a waffle there."
Best interstate view of the Rocky Mountains: "There are so many options, but the I-70 drive between Denver and Grand Junction leaves a lasting impression in my mind."
Best part of the Pacific Coast Highway: "The northern California stretch, after you're out of the big cities and the road starts to get rough and windy. There are no traffic lights, just curves and waves breaking against the coves below."
Gordon began a movement when he drove off the Volvoville lot in 1966, and that movement continues to grow through the collective experience and passion of current Volvo owners. As Gordon approaches the milestone, Volvo Cars of North America (VCNA) is bringing the nation along for the journey. Consumers can visit 3MillionReasons.com for additional information and to submit their own favorite destinations, dream drives and memorable moments on the road.
# # #