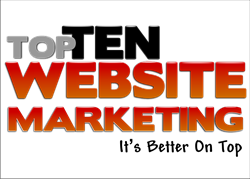 Now you can get a Free Hand Coded SEO Friendly Website
HOLLYWOOD, FL. (PRWEB) July 25, 2013
Internet Marketing Company promotes their Search Engine Optimization Services to help online and offline businesses, starting with a complimentary custom hand coded search engine friendly website for the month of August with the purchase of their SEO Package Level 2. There are many benefits to conducting business and marketing online and Top Ten Website Marketing has the tools one needs to get started or to improve an existing website.
Approximately 94% of today's consumers conduct research online before making purchases, and about 3 out of 5 people utilize search engines for this research. Top Ten Website Marketing specializes in website design and SEO - an acronym for Search Engine Optimization. This is the process of getting one's web site ranked high in search engines, which increases exposure, targeted traffic, and overall success. SEO has proven to be one of the most cost effective forms of marketing. Every company wishes to have the top search engine ranking for their targeted keywords.
Clients can opt to have Top Ten Website Marketing either create an entirely new website or redesign an existing one. All of their websites are SEO friendly and they are all strategically designed and customized to meet clients' specific needs and goals. They are hand coded rather than automatic or pre-programmed. Hand coded websites tend to be more effective and efficient than ones that use templates. This technique increases visibility in search engines, improves quality targeted traffic, and ultimately produces greater results. Clients are always consulted thoroughly to ensure full customer satisfaction, and these services are only a few of the multitude that this Internet Marketing Company offers.
After a 10 year run of his successful nightclub, Pete decided to bring his experience and training of Website Design, SEO, and Internet Marketing to create Top Ten Website Marketing in 2007. His professional and proficient staff have been hand selected and trained in the proper "white hat" procedures for SEO. Other companies will promise you that they will get your business listed at the top of the Search Engines in just a few days, well we know better. As the saying goes, "if it sounds too good to be true, then it isn't," and that saying has never been more true in this specialty industry.
Media Contact:
Pete Pekofsky
Phone: 305-970-5699
Email: web(at)metroseo(dot)net
http://www.top-ten-website-marketing.com