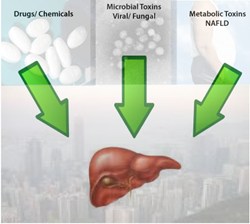 ThioGel-L, a favorite of integrative medicine practitioners, is now available to consumers on a free trial basis.
Wyckoff, NJ (PRWEB) July 30, 2013
The liver is a decidedly unglamorous organ that quietly goes about its assigned task of removing toxins from the body to maintain/restore homeostasis. The demands on liver cells have reached unprecedented levels as a result of technological trends in the food and drug industries.
Massive amounts of chemical compounds (6.5 billion pounds) are released into the environment each year, including toxic metals, pesticides, insecticides, PCB's and herbicides. Residues of the herbicide glyphosate are found in the main food sources (sugar, corn, soy and wheat) consumed in the Western diet. According to the Epoch Times*, even though new research has linked glyphosate to serious health issues, the EPA has been petitioned to raise allowable residues even higher. New research (Samsel & Seneff, Entropy 2013)** argues that glyphosate residues in and on food enhances the damaging effects of other toxins by inhibiting enzymes (CYP 450) that facilitate detoxification of these xenobiotic substances.
One of the roles played by the liver involves removing and breaking down most drugs and chemicals that enter the bloodstream. Breaking down these toxins creates byproducts that can also inflame and damage liver cells. Liver toxicity is one of the greatest problems associated with the consumption of over-the-counter and prescription drugs.
"Among the prescription drugs that cause liver toxicity, the statins represent a great concern due to the widespread use of these cholesterol-lowering agents in our society. Although there is controversy regarding the risk of elevated liver enzymes with statin use, routine liver function tests are no longer required, and physicians are being encouraged to prescribe statins even for patients with existing liver disease (Eg., chronic liver disease, hepatitis C, and fatty liver). Intertwined with the direct effect of statins on liver cells, is the effect of glyphosate residues on the metabolism of statins through the CYP 450 pathway," stated Gerald Bruno, Ph.D. founder of Ethical Alternative Products.
New research (Vos & Lavine, Hepatology June 2013)*** is pointing to the possibility that fructose contributes directly to the development and severity of non-alcoholic fatty liver disease (NAFLD). NAFLD is the most common chronic liver disease in adults and children, and in human studies, fructose has been associated with increasing hepatic fat, inflammation, and possibly fibrosis.
"Whether fructose alone can cause NAFLD or serves as a contributor along with excessive consumption of sugars is yet to be determined, but sufficient evidence exists to recommend the limitation of fructose intake. Another intertwining factor is the recent report in the Archives of Internal Medicine showing a 71% increase in diabetes occurrence in post-menopausal women taking statins. Fatty liver and diabetes share "insulin resistance" as their chief pathogenic determinant, underpinning the complex and bi-directional relationship linking the liver and diabetes," stated Bruno.
The above added burdens on liver cells are only a fraction of the toxic compounds that must be detoxified and eliminated by the liver. This burden on the liver could be lessened by avoiding or reducing exposure to herbicides, pesticides, pollutants, drugs & chemicals, hepatitis viruses, mycotoxins and myriad other toxic agents that enter our body.
"Nature has provided many substances that have a beneficial effect on liver function, and standing out among these natural substances are alpha lipoic acid, silymarin and selenium. These substances have been incorporated into a solubilized, high-bioavailability softgel dosage form sold under the brand name ThioGel-L. ThioGel-L has been successfully used by integrative medicine and holistic practitioners for more than a decade for conditions affecting liver function and is now available to consumers on a free trial basis," stated Bruno.
For more information, visit http://www.protectyourliver.com and start taking proactive steps to help your liver.
About Ethical Alternative Products
Ethical Alternative Products is a dietary supplement supplier that is focused on the research and manufacturing of a select group of scientifically sound, broad-use supplement products. The company mission is to develop and produce high-value supplements, employing innovative formulations and highest quality raw materials. Products produced by Ethical Alternative Products include ThioGel, ThioGel-L triple antioxidant liver formulation, OmniFlex multi-nutrient joint health product and Tendonex topical pain reliever.
*The Epoch Times, June 27, 2013: EPA to Raise Limits on Controversial Pesticide by Conan Milnar. (http://www.theepochtimes.com/n3/134178-epa-to-raise-limits-on-controversial-pesticide/)
** Samsel & Seneff, Entropy 2013: Glyphosate's Suppression of Cytochrome P450 Enzymes and Amino Acid Biosynthesis by the Gut Microbiome: Pathways to Modern Diseases (http://www.mdpi.com/1099-4300/15/4/1416)
*** Vos & Lavine, Hepatology June 2013: Dietary fructose in nonalcoholic fatty liver disease (http://onlinelibrary.wiley.com/doi/10.1002/hep.26299/abstract;jsessionid=6DD7B7F6115E4AC08C8A0E975E56CB5C.d01t02)