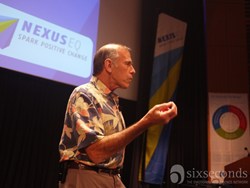 The intersection of cutting edge neuroscience on emotional intelligence, business, and education creates a formula for innovation and positive change.
Boston, MA (PRWEB) July 26, 2013
Is change possible? How can we work with the human brain to build a sustainable future? Today, we face economic, environmental, and educational disaster: What will it take to turn the tide?
Last week, professionals, educators and youth from 32 countries met with thought leaders and neuroscientists on the campus of Harvard University for a first-of-its-kind event. Conference chair, Joshua Freedman, explains: "Change happens in the intersection of perspectives – so we brought together world-leading experts on learning, innovation, emotion, and leadership – from many different sectors, from many walks of life, and created a spark of something new. We can't create change by doing the same old thing, so at NexusEQ we brought together a truly remarkable group of people – from ALL over the world, from age 8 to 84 years old, and from dozens of sectors from military to manufacturing, from gaming to greening the planet. We're in this together."
This blend of cutting edge science, business pragmatism, and idealism seemed to work. A review of the key insights on emotional intelligence for change is online on the website of the conference organizers, a nonprofit organization called Six Seconds. Key insights from the conference include a deeper understanding of why most change fails, and how the latest neuroscience can be applied to solve this problem.
'Nexus' means connection, or intersection – and the NexusEQ Conference is focused on the power of truly diverse perspectives. The central theme of the conference, "Spark Positive Change," refers to the ability of emotions (when used intelligently), to serve as a catalyst for transformation.
Keynote speakers included experts from Harvard Law, Medical, and Education schools, as well as neuroscientists from UCLA and USC. In total, over 80 presenters shared 50 cases, including new data on the role of emotion in driving change. New findings were revealed about the value of emotional intelligence, such as:

How emotional intelligence drives a culture of people-first leadership at FedEx.
How emotional intelligence effectively improves student performance in schools.
How emotional intelligence is taught at Harvard Business School.
How emotional intelligence is improving wellness in pediatric medicine in India.
How emotional intelligence assists nonprofit leaders in building healthier communities.
Delegates to the conference are now charged with the responsibility to bring the key practices to their countries, and participants made a commitment to teach at least 10,000 people by March, 2014. At that time, a follow-up virtual conference aims to reach 25,000 people in a free online festival (watch http://www.6seconds.org)
Presenters included top neuroscientists and emotions researchers, business leaders, education advocates, and authors all sharing success stories of emotional intelligence creating positive change in many sectors, for example:
Business:

Shannon Brown, top HR leader of FedEx Express on creating a thriving leadership culture.
Massimiliano Ghini, business professor at Alma Graduate School, the oldest university in the West, on using emotional intelligence to accelerate change.
Wendy Wu, CEO of New Leaders China, on building sustainable success in rapidly developing economies.
Plus cases from banks, manufacturing companies, hospitality, and Harvard Business School MBA students.
Healthcare:

Dr. Herbert Benson, Harvard Medical School, on transforming from stress to wellness.
Dr. Sandeep Kelkar, a leading Indian pediatrician, on emotional intelligence as an "antidote" to common childhood problems.
Jean Dyer, Interim Dean, Division Health Sciences, Mass Bay Community College, on building a healthy organization.
Plus cases on educating nurses, training doctors, and increasing individual wellbeing.
Education:

Dr. Tony Wagner, Harvard Education, on educating innovators.
Dr. Anabel Jensen, Chair of Education, Notre Dame de Namur, on educating change makers.
Marc Brackett, Director of the Center for Emotional Intelligence at Yale University, on increasing achievement with emotional intelligence.
Plus cases on teacher education, parenting, higher education, and improving schools.
Why it Matters
Joshua Freedman, conference chair, says, "With over 80 presenters, this is the largest assembly of emotional intelligence cases and experts ever. A glance at the incredible conference agenda shows that these simple, powerful skills are making a positive difference in every sector of society – everywhere." Freedman says that the conference is part of a vision to bring the skills of emotional intelligence to one billion people worldwide.
There is now an extensive case for emotional intelligence, showing that these skills improve leadership, learning, and living. The next step is to bring these skills into wider practice to spark positive change, which is the focus of Six Seconds, the nonprofit organization leading this worldwide movement.
For more information, see The Six Seconds Emotional Intelligence Network website at http://www.6seconds.org