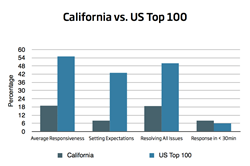 Social customer service is public by nature. Brands can't afford to ignore it. - Joshua March, CEO, Conversocial
New York, NY (PRWEB) July 24, 2013
Conversocial, the leading social customer service platform, released the Twitter Customer Service Performance Report of California Retailers last night. Conversocial's previous report focused on 100 top internet retailers nationally.
The California report used a star rating system similar to that of the previous report, basing its ratings on factors such as response time, responsiveness to customers, use of social media management systems, and whether companies were resolving issues in-channel or redirecting customers to email or phone.
California retailers received an average of 2.05 stars out of a possible 5, compared to 2.13 in the previous report. No retailers received 5 stars in California. In fact, the only companies to receive 4 or more stars were Chegg and NatureBox.
While all of the brands in the most recent report were responding to customer Tweets in some capacity, only 18.67% were resolving real issues through Twitter. This is a low number, especially when compared to the 50% of companies that were resolving issues this way, according to the Social Customer Service Performance Report of 100 Top Internet Retailers. The rest of the California retailers were only answering simple FAQ questions but not resolving more detailed customer queries and/or directing customers to other channels.
"Consumer expectations are changing and an increasing number of companies are starting to deliver real, fast social service. In this new situation, social customer service has rapidly become fundamental to customer satisfaction," says Conversocial CEO Joshua March. "Social customer service is public by nature. Brands can't afford to ignore it."
The average response time across all companies - 11 hours 10 minutes - was also much slower than most customers expect (42% of consumers complaining via social media expect a response within 60 minutes).
Conversocial plans to continue its Social Customer Service Benchmark Reports and invites interested companies to contact them for a personalized report.
You can download the report at conversoci.al/california-report
Companies included:
1. Chegg
2. NatureBox
3. Walmart
4. DirecTV
5. Ticketmaster
6. Vans
7. Samsung
8. Netflix
9. Sony
10. Zazzle
11. Sena Cases
12. Clif Bar
13. Airbnb
14. The RealReal
15. Urban Decay Cosmetics
16. IHOP
17. Petco
18. ShopStyle
19. Target
20. Clorox
21. Plum Organics
22. Safeway
23. Banana Republic
24. HP
25. Del Monte Foods
26. Coupons.com
27. Tilly's
28. World Market / Cost Plus
29. Symantec
30. Everlane
31. Baja Fresh
32. Wine.com
33. California Pizza Kitchen
34. ESET
35. Pottery Barn
36. Goorin Bros
37. Shutterfly
38. Timbuk2
39. Gap
40. One Kings Lane
41. Mattel
42. ModCloth
43. Art.com
44. Alibris
45. Peet's Coffee and Tea
46. Oakley, Inc.
47. Big 5 Sporting Goods
48. Chicken of the Sea
49. Sheet Music Plus
50. Nasty Gal
51. Amy's Kitchen
52. Häagen Dazs
53. LeapFrog
54. PacSun
55. Annie's
56. Old Navy
57. Levi Strauss
58. The North Face
59. Pelican Products
60. Williams-Sonoma
61. Ugallery
62. Lynda.com
63. Quicksilver
64. Orion Telescopes & Binoculars
65. Monoprice
66. Bare Escentuals
67. Popchips
68. Naked Juice
69. Gymboree
70. Guess
71. The Cheesecake Factory
72. Stella & Dot
73. The Coffee Bean
74. bebe stores
75. Taco Bell
About Conversocial
Headquartered in New York and London, Conversocial continues to expand into the American market. Conversocial has processed more than 330 million customer service interactions on social media and is deployed in more than 20 countries. Companies and organizations such as American Greetings, Barclaycard, Hertz, JackThreads, Net-A-Porter, Publisher's Clearing House and The University of Phoenix, are using Conversocial's SaaS platform to manage the flow of customer service enquiries and discussions on Facebook and Twitter.
For more information contact: Mike Schneider, Mike(at)Conversocial(dot)com or Michael Cecil, 212-362-1307, Michael(at)Thunder11(dot)com.