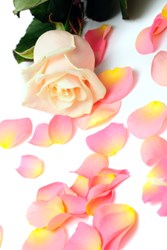 Atlanta, GA (PRWEB) July 26, 2013
Peachtree Petals, a leading Atlanta Florist and FTD Master Florist, announces rose petal gift box services. The announcement comes in an effort to market its' variety of floral products, meet client demand for rose petals and increase sales growth. Peachtree Petals has established itself as a premier florist and pursues to be the best choice for floral services within Atlanta and nationwide.
Peachtree Petals has fresh rose petals available for sale daily. The boxes are seven inches in length, five inches in width, and four inches in height. The boxes do not carry a specific number of rose petals, yet typically will consist of at least six rose stems. The rose petal gift boxes are $7.50 each. Customers are able to pick up their rose petal gift boxes within 20 minutes from the time they place their order.
Rose petal gift boxes may be ordered via phone or online. Peachtree Petals has a minimum order amount of $35.00 for free same-day delivery within the Atlanta and Metro Atlanta area. This is one of their competitive advantages within the floral industry. The floral shop's same-day delivery is performed within a 5-hour window time frame. Peachtree Petals also offers rush service deliveries, which is performed within a 2.5-hour window time frame for $8.99.
For any cities outside of the Peachtree Petals free same-day flower delivery zones, there is an additional $10.00 delivery fee. Customers will receive an e-mail once their rose petal gift boxes have been picked up and delivered. Whether to a residence or business, Peachtree Petals is able to meet all same-day delivery needs for rose petals.
Peachtree Petals is a recognized leading florist, able to meet any of your floral needs. From headquarters in Atlanta, Georgia, Peachtree Petals provides floral services from quality floral arrangements, and wedding bouquets, to wedding consulting, and assorted gifts throughout the US. The Atlanta florist offers high-quality flowers with a standard free delivery of all bouquets in the Atlanta and Metro Atlanta.