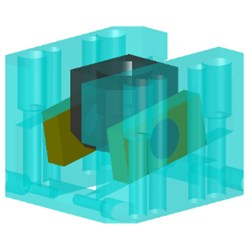 It's all about efficiency and saving our customers time and money.
Coopersville, MI (PRWEB) July 25, 2013
SelfLube is the leading domestic manufacturer of mold and die components, which include wear strips, bushings, wear plates, gibs, slides, parting line locks and many other items. The company has recently updated its website with an expanded set of 3D solid CAD models for its products. These five models are now available online 24/7 in five standard formats: ACES, CATIA, PARASOLID, STEP and IGES.
The SelfLube website is organized by product family and part number. And, combined with a search function, it makes for easy navigation by the customer. Selecting and downloading the proper 3D model for the many thousands available is just a matter of a few clicks. "Its all about efficiency and saving our customers time and money," says Marketing Specialist Jordan Fifelski. "And, whenever we can do that it's a big deal because we are helping our customers be incrementally more competitive in a very competitive industry."
SelfLube makes standardized components that go into complex one-of-a-kind tools built by its customers. Before committing to resources to build the actual tool the customer will first build a virtual tool on CAD using a 3D solid model. "As a component supplier, SelfLube actually supplies two products: The actual physical product and a virtual product in a form of a 3D model," explains owner Phil Allor. "Both are critical to the customer because the customer is involved in two activities: design, which may be thought of as a virtual build using 3D models and the actual build using the physical product."
SelfLube has been in business for 23 years and is the leading US manufacturer of mold and die components. Serving mold, die and special machine shops throughout the US, Canada and now in Mexico. Its product line consists over 8,000 standard part numbers, many of which are self-lubricating and include bushings, gibs, parting line locks, lifter slides and many other related items.