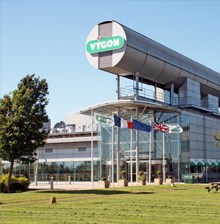 What a brilliant day I had attending the Vygon day. It certainly will make a difference to my practice
Swindon, Wiltshire (PRWEB UK) 26 July 2013
Vygon (UK) Ltd gastrostomy study days have reached a milestone. The most recent event in London marked the 100th study day, with 75 delegates from healthcare organisations across the south of England in attendance.
The study days are part of Vygon's ongoing commitment to education and training, facilitating the exchange of knowledge in order to improve gastrostomy tube care. Experts in their field share their experiences, and delegates have the opportunity to network with their peers.
Subjects covered include: a guide to enteral tubes available; PEG assessment, insertion and management; enteral tube feeding and safe discharge planning; ethical issues surrounding enteral feeding; gastrostomy in children; mechanical characteristics and complications; dysphagia workshop; and drug administration issues for patients with enteral feeding.
Delegate feedback is always very positive:
"I just wanted to say what a brilliant day I had attending the Vygon day. It certainly will make a difference to my practice."
Sam Keeler, Staff Nurse.
"This was a really good study day, with lots of useful information from speakers who are clearly experts in their field. I'd definitely recommend this study day to anyone working with patients on enteral feeding, and already plan to send colleagues to the next one."
Suzanne O'Sullivan, Nutrition Nurse.
But it's not just the delegates who benefit from these days; each delegate pays a booking fee of £15 to secure their place, which is then passed on in full to the charity PINNT (Patients on Intravenous & Nasogastric Nutrition Therapy). PINNT is a patient-led support group for people receiving artificial nutrition. To date Vygon has facilitated donations of over £20,000 to the group which aims to:

promote greater understanding of the therapies amongst patients, potential patients and the medical profession.
provide contact between patients
work towards improving homecare services and range of equipment
have a united voice to campaign for a better, flexible and safer service.
Max Richards, Vygon (UK) Ltd Business Development Manager for enteral feeding devices said:
"As UK suppliers of the market-leading MIC gastrostomy products from Kimberley Clark it's easy to get hung up on profits and sales figures. With gastrostomy study days we are able to give something back not only to healthcare workers, but to patients as well through the donations to PINNT. Our guest speakers are encouraged to talk about their experiences with all tubes, not just ours, and they are free to speak honestly. And it's great to meet the delegates. From them we gain a greater understanding of issues they face on a daily basis which in turn helps us to help them through product and service development. Here's to the next 100!"
For more information about Vygon's Gastrostomy Study Days please visit http://www.vygon.co.uk, or to attend the 101st study day in Swindon on September 26th contact us by email to studydays(at)vygon(dot)co(dot)uk or on 01793 748830.
Source
Vygon (UK) Ltd
About Vygon (UK) Ltd
Vygon (UK) Ltd is dedicated to the supply of single-use medical and surgical products. The company is a leading provider of intravenous access devices to the NHS. Brand names include; Multicath, Lifecath, Leadercath, Bionector, Biovalve and MIC.
Vygon (UK) Ltd is part of The Vygon Group of Companies which have supplied the healthcare profession for over 50 years. The Vygon Group is a global manufacturer of single-use medical and surgical products. Internationally it designs, manufactures and markets more than 100 million products in 110 countries, all in accordance with ISO 9001 and EN 46001 standards.
For further information, please contact:
Katie Kingston, Marketing & Customer Communications Manager
T: 01793 748830
http://www.vygon.co.uk