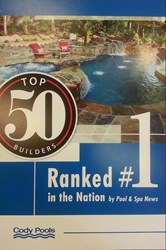 We are honored to be included in POOL AND SPA NEWS' Top 50 list and to have the #1 overall ranking
Georgetown, Texas (PRWEB) July 29, 2013
Cody Pools, Inc. has been named by POOL AND SPA NEWS magazine as #1 in their list of Top 50 Pool Builders. Winning companies are featured in the June 28th issue of POOL AND SPA NEWS magazine.
POOL AND SPA NEWS magazine, published by Hanley Wood, LLC is the largest publication in the swimming pool and hot tub industry. Each year, POOL AND SPA NEWS magazine names the Top 50 pool builders in residential construction. The Top 50 are a prestigious line up of the pool industry's best performers and provide a good example of how to run a successful building company. Criteria for choosing the Top 50 include revenue, staff, web presence, industry and community involvement.
"We are honored to be included in POOL AND SPA NEWS' Top 50 list and to have the #1 overall ranking" says Mike Church, President, Cody Pools, Inc. "The Top 50 includes an impressive list of pool building companies and we are privileged to be named to this select group. Thanks to the healthy Texas economy we've been able to see noticeable growth over the past several years. We expect to build over 600 pools this year and have expanded our operations into Dallas and Houston Texas".
Cody Pools, Inc. is a Texas based builder of custom in-ground swimming pools for both residential and commercial customers. We were established in 1994 and have 9 locations in Texas serving the greater Austin, San Antonio, Killeen, Waco, Dallas/Ft. Worth and Houston areas. Our corporate headquarters are located in Georgetown Texas and Cody Pools currently has 65 employees. Cody Pools is an Association of Pool & Spa Professionals Certified Pool Builder and an A+ rated member of the Better Business Bureau. For more information, please visit http://www.CodyPools.com.