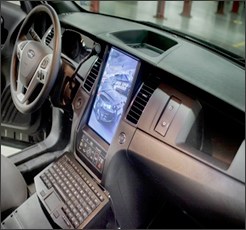 Warminster, Pa. (PRWEB) July 29, 2013
The Los Angeles Police Department (LAPD) is bringing their vision of the future police vehicle to Charlotte, N.C. for Hendon Publishing's Police Fleet Expo. From Aug. 19-22, show attendees will get to see an all new, in-dash mounted screen in Ford's Police Interceptor Sedan and Police Interceptor Utility.
The LAPD has envisioned the system as the next step forward in police vehicle interiors. The modern police vehicle is becoming loaded with technology and equipment that, in turn, puts a premium on in-vehicle space. Departments across the country are consistently working to create the best ways to mount their necessary equipment in a safe manner in the dash, center console, passenger side, and trunk of their next generation Ford Police Interceptors.
The LAPD's design will put an emphasis on police officer comfort and ergonomics, saving space, and technology integration. New police car infrastructures demand the safe mounting and easy use of multiple radio connections, multiple video inputs, relocated HVAC and factory controls, radar detection, license plate recognition systems, laptop computers, printers, and other equipment.
The Los Angeles Police Department has worked with Ford Motor Company, Havis Inc., National Safety Agency and Lectronix to co-develop a solution that will give police officers an integrated screen with controls to all of these pieces of critical equipment.
Ford's cooperative engineering and design efforts have led Havis to create a dash molding that precisely and securely wraps a Lectronix monitor. Shared engineering CAD data has allowed Havis to use factory OEM mounting points for the screen's location and all required fasteners. Finally, Lectronix' use of custom software will provide the technology to create the integrated functionality that the LAPD requires for its police force.
At the Police Fleet Expo in Charlotte, N.C., show attendees will be able to see a prototype of the new system in a Ford Police Interceptor Utility in the Havis Inc. booth (#94) and a Ford Police Interceptor Sedan in the Crown North America booth (#326). Located at the Charlotte Convention Center, the Police Fleet Expo has a full agenda for Aug. 19-22. Exhibit hours include Aug. 21 from 1:30-5:30 p.m. and Aug. 22 from 9:00 a.m.-1:00 p.m.
FOLLOW HAVIS
Stay up-to-date on the latest products and announcements from Havis through the Havis Equipped Blog, LinkedIn and Facebook.
ABOUT HAVIS
Havis Inc. is a privately held, ISO 9001:2008 certified company that manufactures in-vehicle mobile office solutions for public safety, public works, government agencies and mobile professionals. For over 80 years, the Havis mission has been to increase mobile worker productivity with industry-leading products that are built to the highest safety and quality standards and are designed with comfort in mind. Headquartered in Warminster, Pa., with an additional location in Plymouth, Mich., Havis currently employs 200 people. For more information on Havis, please call 1-800-524-9900 or visit http://www.havis.com.
CONTACT:
Andrea Felice
Havis, Inc. | Marketing
Phone: 215-957-0720 ext. 3198
E-mail: media(at)havis(dot)com
http://www.havis.com