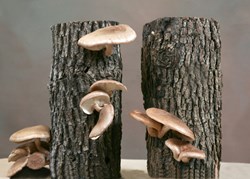 The natural shiitake cycle is 6 months. With a log kit, instead of 2 crops a year, we get 6 crops a year. With two logs and air conditioning, our customers can have 12 crops a year, even in the high temperatures of July and August.
Perkins, OK (PRWEB) July 30, 2013
"Shiitakes are a spring and fall mushroom, triggered in Nature by warm days, cool nights, and rain," according to The Mushroom Lady, Sandra Williams of Lost Creek Mushroom Farm. "Shiitake log kits kept indoors with air conditioning can grow even in July and August. They're tricked into popping out their mushrooms by cooling the logs with ice water or refrigeration. It's fun to watch the baby mushrooms peek out, puff up, and bloom into beautiful, healthful, delicious shiitakes."
The Ma and Pa Shiitake Log Kits contain two 9-10" logs, ready to fruit, with instructions and recipes. The logs are fully guaranteed to produce. The price of $49.95 includes shipping and handling.
Shiitake takes its name from the shii tree, native to Japan, and "take," meaning "fruiting body." It grows naturally in Asia, and has been cultivated in the United States on sterilized sawdust blocks, which can be grown year-round; and on hardwood logs, which do not grow naturally outdoors in summer and winter, but can be encouraged to fruit more often.
Log-grown shiitakes are more specialized and more expensive, as much as 50% higher, available mostly in farmer's markets. "Log-grown shiitakes are produced primarily on small-scale farms because they're labor intensive," The Mushroom Lady said, "But, they're growing in their natural habitat, so log-grown shiitakes taste better, are higher in nutrients and are more potent in their health and medicinal benefits than sawdust-grown shiitakes."
"All shiitakes are good and good for us. Log-grown shiitakes are better – and harder to come by."
Sandra and her husband Doug Williams started growing the world's second-most popular mushroom on oak, hickory, gum and other hardwood logs in the 1980s. Finding very few market opportunities in Oklahoma at that time, they turned their business toward selling the logs.
"The beauty of the log kits is that they last for years, growing mushrooms every two months. They grow indoors like plants. In the spring and fall they can grow outside in shade," Williams explained. "For some people, every two months isn't fast enough, isn't enough mushrooms. The Ma and Pa Kit is a fun solution."
Shiitake logs have been "inoculated," injected by hand with shiitake seed material, called spawn. The logs then incubate, as the shiitake grows inside, digesting the cellulose and converting it into shiitake mycelia, which form the fruiting bodies we call mushrooms. "The mushroom-growing process takes 8-12 months," Sandra said.
Lost Creek Mushroom Farm offers 6" 'Shroomies at $18.00, 10" single log kits at $29.95, and 12" logs at $36.95. The Original Tray Kit includes a 14-15" log with a tray for soaking, fruiting, and resting the log between fruiting cycles, at $54.95. Prices include shipping and handling. All kits include the log, instructions, and recipes. Kits 9" and over are fully guaranteed to grow shiitakes.
See the whole product line and order online at http://www.shiitakemushroomlog.com. Free brochures available and phone orders at 1-800-792-0053.
The Williams' donate a portion of Lost Creek Mushroom sales to their Mushrooms in Ghana Project, building a spawn laboratory to help small-scale oyster mushroom farmers increase production and reduce contamination. The project is encouraging shiitake mushrooms as a second crop and conducting research to determine optimal production methods. In 2012 Sandra and Doug started The Voice of the Mushroom Foundation to promote small-scale mushroom production and increase mushroom consumption for health and well being worldwide.