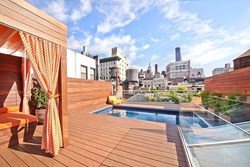 New York City, NY (PRWEB) July 30, 2013
Two of New York City's top eight 'most decadent private pools' were custom manufactured by Endless Pools.
Doug Levine, a real-estate investor, chose an eight by seventeen foot Endless Pool with a velvety blue liner for his project in the Flatiron district. The pool is surrounded by a flat-screen-equipped cabana.
The second pool, located in Tribeca, was incorporated into a building designed by famed architect Winka Dubbeldam, who built a custom cabana over the nine by sixteen Endless Pool, for shade and privacy.
Both of the rooftop Endless Pools are enhanced by breathtaking views of the New York City skyline.
But make no mistake—the Philadelphia based company mixes plenty of function with chic design.
While the Endless Pool is a builder's dream come true due to its flexible modular construction, the swim current perfected over the last twenty-five years is second to none.
An Endless Pool or Spa offers an elegant option that provides both a premium appearance, as well as daily home aquatic exercise and an unparalleled home swimming workout.
It is no wonder these New Yorkers, and thousands more worldwide have chosen an Endless Pool as their custom choice for the most beautiful and functional swimming option available.
From the patio to the sunroom to the rooftop overlooking the New York City skyline, an Endless Pool can be adapted to meet the precise needs of builders and homeowners.
With imagination and proper planning, an Endless Pool can be installed nearly anywhere, indoors or outside, making it the most versatile and functional pool on the market.
ABOUT ENDLESS POOLS:
Endless Pools, established in 1988, has served over 20,000 customers in over 80 countries, and offers compact, customizable outdoor or indoor pools. With a series of six innovative products, from the Original model to the Spa Series, and an adjustable, revolutionary swim current, the product can be tailored to the most demanding standards. Low-maintenance and environmentally friendly, Endless Pools has a product to meet virtually any need.
For more information, visit http://www.endlesspools.com or contact Rob Shaeffer at 610-497-8676.