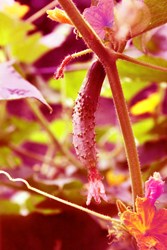 Vancouver, British Columbia (PRWEB) July 30, 2013
GrowthStar introduces its Cucumber Spectrum Blends, a change from our VegMax and PowerBloom plus spectrum blends designed specifically for Cucumber horticulture.
By increasing percentage of 410nm - 510nm (Blue Spectrum) in cucumber greenhouse supplemental lighting, it has been found that the cucumber fruit itself grows larger with increased leaf, stem size and strength.
Whereas increasing the percentage of the (Red Spectrum) (630nm – 660nm) the plant will abort fewer flowers resulting in higher fruit numbers. Shorter inter-nodal growth with slight reduction of the leaf and stem size can also be observed. This is also light location dependent and the specific breed chosen will have some effect as well. Light location refers to whether the light is pointed directly onto the fruit, as in inter-canopy lighting, or if it is an overhead source. Keep in mind that many other environmental variables also affect flower abortion.
GrowthStar applies relatively high blue spectrum levels (in comparison to that of tomatoes); a 16 % to 24 % ratio is applied depending on target cucumber variety. The actual nanometers in the blue spectrum have little effect on the growth and although there are different photo-receptors for both 430 and 460, they seem to have the same effect in the growth cycle of the plant.
GrowthStar is using 430 nanometer "blue LEDs" as the light photons in those wavelengths have higher quantum energy. And, as a result, a higher penetration into the vegetation canopy can be achieved which is beneficial for the overall performance especially with cucumbers that have large shading leafs.
GrowthStar has introduced two unique spectral mixes, each specifically designed for cucumbers; each "Blend" applies a balanced spectrum approach with the new combinations having slight variations for the following:
LED 120 Watt Horticultural Cucumber Light is available from LED Canada:GrowthStar PCC "for larger sized cucumbers"; and
LED 278 Watt Horticultural Cucumber Light is available from LED Canada: GrowthStar MCC "for Mini cucumbers"
Available in all our standard GrowthStar housings: 8 module—ZA Series—GStar GrowBar
LED Canada is exclusively managing sales, distribution and warranty.