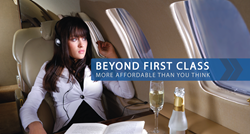 With long delays, queues, and hassles with large airlines, holiday goers are increasingly looking for a more unique and distinctive way to travel
(PRWEB UK) 31 July 2013
With countless music festivals taking place in Ibiza over the summer months, thousands of holiday makers are flocking to the island, resulting in heavy airport queues putting a dampener on the holiday before travellers have even left the UK. London based private jet share company Lux- Jet offers an alternative way to travel, that is surprisingly affordable. Their weekly scheduled private jet flights enable holiday makers to travel to Ibiza in VIP style avoiding the airport queues, only needing to arrive 15 minutes before the flight departs.
Popular festivals such as Ibiza Rocks are offering VIP tickets which enable tourists to party like a rock star on the VIP terrace. With a front row seat and waitress service they can enjoy the festival in true style, so why should their flights be any different? Ibiza airport handled 5.6 million travellers last year, which is an 11.9% passenger rise versus 2011. The continued growth in travellers arriving to Ibiza each year, particularly in the summer months, will continue to place increasing pressure on the airport, potentially resulting in long delays and even longer queues. Hassles like this are not what anyone wants at the start of their exceptional holiday.
These issues and the rise in people looking for a more unique holiday experience has led to the need for a more distinctive way to travel, which the Lux-Jet experience can cater for. Scott Nicholas Managing Director of the exciting new jet share company explains his vision for the future of Ibiza travellers. "Holiday makers travelling to the Ibiza music scene during the summer months are looking for a relaxing holiday from start to finish. My aim is to create a business which provides VIP treatment to the passengers from the very moment they arrive at the airport. They will not just get to see rock stars perform on their holiday they will be treated like one as well."
Prices starting from just £900 one way to Ibiza, prices are comparative to what passengers might pay for business or first class seats, but with many more fringe benefits. Flying from Luton International travellers can arrive 15 minutes before the departure time avoiding possible queues and hassles, they can even park close by plane hangar in a secure customer car park.
Upon arriving in Ibiza, passengers have the opportunity to use the VIP lounge and are taken to and from the luxury jet via VIP transport. Scott notes, "Our Cessna Citation jet is the most popular jet in the world so you are likely to be travelling with like-minded people who are also heading to take in the Ibiza music scene, celebrating their honeymoon or maybe even a superstar DJ on their way to perform at the festivals."
Lux-Jet offers seats on a convenient weekly basis, making it possible for travellers to hit the Ibiza scene for a long weekend or a 7 night stay. With a straight forward approach to booking seats and no last minute price changes it has never been easier to book a private jet to Ibiza. Visit http://www.lux-jet.com/ today to arrive in VIP style this summer at the island that rocks.