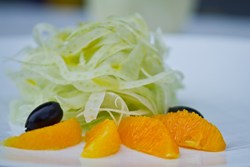 Great food does not have to be complicated. Italian food is very simple....fresh, good quality ingredients put together in an easy way
Washington, DC (PRWEB) July 31, 2013
The warm weather is the perfect time for outdoor get-togethers. Any place will do, the deck, backyard, patio, or just head for the hills. Pack a picnic basket or fire up the grill and look forward to a great alfresco meal with friends and family. "Great food does not have to be complicated. Italian food is very simple fresh, good quality ingredients put together in an easy way," says Luigi Diotaiuti, award-winning chef and owner of Washington DC's favorite Italian restaurant, Al Tiramisu. As we come to the end of summer, Chef Luigi, shares two of the most popular dishes from his restaurant –guaranteed to please everyone.
"Our approach at Al Tiramisu is to present 'elevated' Italian cuisine...meaning we transform traditional ingredients and recipes into the fine dining experience. My goal is to show that cooking a good meal does not have to be complicated, and that Italian cuisine can be part of a healthy diet." As an avid marathon runner, Chef Luigi is a testament to his belief that good food can also be healthy.
This summer, create memorable get-togethers with these delicious and healthy dishes that will have everyone asking for more.
Fennel and Orange Salad
(Insalata di finocchi e arancie)
Serves 4
"A crisp white bulb of fennel brings to mind my father and the people of his generation, who loved to eat it as a palate-cleansing finish to a long meal. Fennel, with its delicate, anise-like flavor, thrives on the Italian plains. High in fiber and potassium, fennel has been prized for its nutritional and medicinal value since ancient times.
This simple, refreshing salad has been on the Al Tiramisu menu since I first created this version many years ago. It's a perennial hit with my guests who invariably ask me for the recipe. Many home cooks seem mystified by fennel's unusual appearance and for them I offer tips, below, for dealing with fennel."
Ingredients:
2 tablespoons extra virgin olive oil
2 tablespoons freshly squeezed lemon juice
Salt, to taste
2 fresh bulbs of fennel, approximately 11-ounces each, stalks and fronds removed
2 oranges, peeled and cut into segments
4 black olives, pitted
Preparation:
1. In a medium bowl, vigorously whisk the olive oil and lemon juice with a little bit of salt to form a creamy vinaigrette.
2. Using a mandolin, or a sharp knife, slice the fennel into thin, paper-like pieces.
3. Add fennel slices to the vinaigrette and mix well to incorporate.
4. Divide the fennel onto four salad plates.
5. Arrange the oranges in a decorative pattern around the salad and decorate the sides of the oranges with 2 olive halves.
Salmone in salsa d'arancia/Salmon in Orange Sauce
Serves 4
"This salmon recipe is on my list of 'untouchable' Al Tiramisu menu items. I cannot remove it without disappointing a number of long-time customers so enamored with it that they often bring friends and family members along to try it. Anyone who respects the philosophy of fine, simple food will love this dish too. It's made with oranges rather than the more typical lemons. The acidity of oranges is milder than of lemons, resulting in a beautiful balance with the salmon."
Ingredients:
4 medium oranges, peeled, with white pith completely removed, cut into 16 slices, with remaining orange pieces set aside for juicing
½ cup fish stock
1 teaspoon cornstarch dissolved in ¼ cup water
Salt, to taste
4 (7-ounce) salmon fillets
Preparation:
1. Preheat grill to high heat or preheat the oven to 375F degrees.
2. Juice the reserved orange pieces in a colander set over a bowl. Place orange juice and fish stock in a skillet over medium high heat. Bring to a boil and let cook for a few minutes. Add the corn starch mixture; whisk to combine. Boil for another minute. Salt to taste. Remove from heat and add the 16 orange pieces.
3. If grilling, place the salmon pieces on the grill and cook for about 4 minutes each side, or until just cooked through (this will vary depending on the thickness of the salmon pieces. If baking, place salmon on a baking sheet and bake for 9 to 10 minutes, or until cooked through.
4. To serve, place salmon in the center of the plate with the 4 orange pieces on top. Drizzle sauce over the salmon. Serve with sautéed spinach, mashed potatoes, or vegetables.
RECIPES MAY BE REPRINTED WITH THE FOLLOWING CREDIT:
Copyright Luigi Diotaiuti, 2013, reprinted with permission
ABOUT CHEF LUIGI DIOTAIUTI
Award-winning chef, certified Sommelier and restaurateur, Luigi Diotaiuti, is a world-renown authority on Italian cooking and living. Born on a farm near Lagonegro, in the mountains of southern Italy, Chef Luigi has made it his life's work to bring the passion and joy of Italian cuisine to everyone he has cooked for.
When he is not cooking for celebrities and dignitaries like Italian Prime Minister Mario Monti, Secretary of State Hillary Clinton, and actor George Clooney, Chef Luigi makes frequent appearances on US and Italian television and has been featured in countless print media articles. A born educator, he currently conducts regional Italian cooking and wine –pairing classes at Al Tiramisu, and regularly conducts cooking classes with the students from Washington DC's Hyde-Addison Elementary School. Chef Luigi is in the process of publishing his first cookbook, to be out later this year. He has earned a gold medal for his culinary efforts by the President of Italy and is a member of the American Chefs Corps network through the U.S. Department of State. Chef Luigi lives in Washington, DC.
ABOUT AL TIRAMISU
Dining at Al Tiramisu restaurant, located in the heart of Washington, DC, is like taking a trip to Italy without leaving the country. The restaurant has been hailed as the most authentic Italian restaurant in the nation's capital. Chef and owner Luigi Diotaiuti, prepares classic seasonal dishes that smell good, look great and make you feel like you are back in Italy. The award-winning restaurant is cozy, warm, and joyful—reflecting the effervescent and playful personality of Chef Luigi. Witness the Jester logo, Al Tiramisu's name (translation "cheer me up"), the welcoming "buona sera" greeting when entering the restaurant. "Al Tiramisu is my life—it's who I am," smiles Chef Luigi whose delightful Italian accent and charm sets the tone. "I want people to have great food AND a great time. When people leave happy, I know that what I'm doing in life touches people." He proudly keeps a huge scrapbook of handwritten notes from happy customers. The restaurant has been chosen by The Washington Post as one of their "best bets," featured in numerous blogs such as FamousDC.com, and is the recipient of the Regione Basilicata "Sapori Lucani" Award, granted to restaurants and chefs best representing the culinary arts of the Basilicata region of Southern Italy. The restaurant was also awarded the coveted "Insegna del Ristorante Italiano," the seal of approval by the President of Italy.
To learn more about Chef Luigi Diotaiuti and Al Tiramisu restaurant, go to: http://www.AlTiramisu.com.