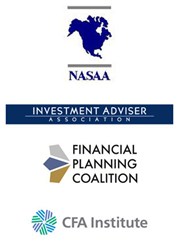 Washington, DC (PRWEB) July 30, 2013
Groups representing state securities regulators and investment services providers today released an updated publication designed to guide investors through the process of choosing an investment services provider.
The publication, "Cutting Through the Confusion," originally published in 2006, explains the differences between brokers, investment advisers, and financial planners and identifies questions investors should ask themselves and potential providers before making a choice.
The organizations that produced the updated publication include the North American Securities Administrators Association, Investment Adviser Association, CFA Institute and the Financial Planning Coalition, which is comprised of Certified Financial Planner Board of Standards, the Financial Planning Association and the National Association of Personal Financial Advisors.
"State securities regulators are committed to helping investors understand the different services, costs and legal obligations of providers available to assist with their investment needs," said A. Heath Abshure, President of the North American Securities Administrators Association and Arkansas Securities Administrator. "We are concerned about investor confusion stemming from the blurred lines between traditional brokerage, investment advisory, and financial planning services."
"Cutting Through the Confusion provides practical guidance about how consumers should go about selecting a financial advisor to assist them with their investments. It offers a clear, common sense discussion of the key differences between brokers, investment advisers and financial planners," said Neil A. Simon, Vice President for Government Relations, Investment Adviser Association. "The IAA appreciates the dedication to investor protection evidenced in this publication by the state regulatory community and the other organizations that worked on updating this important investor education resource."
"The Financial Planning Coalition is proud to support the development of this objective tool that consumers can use to better understand the complex terminology and information that is so prevalent in the financial services industry. Providing the public with greater clarity on what financial professionals do and the services they provide will help them make smarter, better-informed decisions for their financial well-being," the Financial Planning Coalition said.
"Investors need to understand the investment products and services they are using or are thinking of using, as well as the standards of care they can expect from different financial services providers. CFA Institute is pleased to be part of this effort to provide investors with a valuable tool that can help them make better investment choices," said James C. Allen, CFA, Head of Capital Markets Policy at CFA Institute.
A PDF version of the brochure is available online at the following websites:
http://www.nasaa.org
http://www.investmentadviser.org
http://www.financialplanningcoalition.com
http://www.cfainstitute.org
Contacts:

Bob Webster, NASAA, (202) 737-0900
Neil A. Simon, Investment Adviser Association, (202) 293-4222
Dan Drummond, Financial Planning Coalition, (202) 379-2252
Sarah-Jane Purvis, CFA Institute, (212) 705-1738