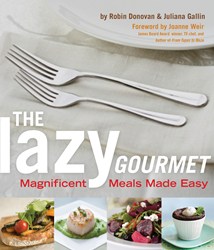 (PRWEB) July 30, 2013
With the majority of the country depending more and more on fatty, sugary processed foods, there has been a recent trend in kitchens to return to healthy, natural cooking. Diets in Review interviewed authors and foodie bloggers Robin Donovan and Juliana Gallin about their inspiration for their blog, Two Lazy Gourmets and how they try to cook and eat healthy.
"People love indulgent food that's full of flavor. We like to eat healthy so we've had to figure out how to make food that's flavorful without being overloaded with fat and sugar. Everyone wants delicious food and if you can make it healthy, too, it's a total bonus." — Robin and Juliana
They also include their three favorite healthy recipes to date, which include Spicy Korean Gochujang Chicken, Muhammara (Syrian Red Pepper, Walnut, and Pomegranate Dip), and Easy, Dairy-Free Thai Black Rice Pudding with Coconut Milk. Find three free recipes from their book The Lazy Gourmet on the Viva Editions website.
The Lazy Gourmet:
Magnificent Meals Made Easy
By Robin Donovan and Juliana Gallin
The Lazy Gourmet is for anyone who dreams of dazzling friends and loved ones with fabulous home-cooked fare, especially cooks short on time, patience, skill or experience. Authors and food bloggers Robin Donovan and Juliana Gallin conquer the misguided belief that preparing an elegant meal requires spending hours—or days—in the kitchen. With the help of an army of volunteer testers, regular people with picky palates and little cooking experience, they have created this collection of more than 125 easy recipes. Elegant, party-worthy dishes like Orange-Spiced Pecans, Basil Leaf and Goat Cheese Wraps, Pistachio-Crusted Leg of Lamb, Seared Sea Scallops with Mint and Pea Puree, and Lazy Chocolate "Mousse" all rely on readily available ingredients, common kitchen appliances and basic techniques. With these deceptively easy recipes and a bevy of useful tips and tricks, The Lazy Gourmet shows that anyone can prepare delightfully simple yet surprisingly delicious and sophisticated dishes that are certain to impress. Find even more recipes on their blog: Two Lazy Gourmets.