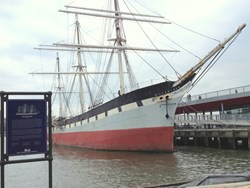 Beer on a boat is the perfect afternoon
New York, NY (PRWEB) July 30, 2013
What better way to escape the blistering heat of the city streets and take in the beautiful New York skyline this summer than by taking a boat ride in the harbor? New York walking tour company Urban Oyster is helping people to do just that by launching their 'Out to Sea' promotion which will run from now until August 31st. Urban Oyster is offering all customers 20% off the New York Harbor Craft Beer Sail, the New York Harbor Cocktail Sail and the Neighborhood Eats: New York Waterfront Tour. This will provide those interested in food, beverages, culture and local history an excellent opportunity to see New York from a unique perspective.
The New York Harbor Craft Beer Sail offers people a way to enjoy craft beer from local breweries, all whilst soaking in the sights of New York Harbor. Urban Oyster have teamed up with Manhattan by Sail aboard their ship 'Clipper City', a replica clipper ship and the largest sail boat at New York Harbor, for this event. Each sail features a different New York State Brewery, and beer experts guide guests through tastings of several different beers. "Beer on a boat is the perfect afternoon," shared one passenger.
The New York Harbor Cocktail Sail is similar to the Craft Beer Sail, but with cocktails! Each cruise features tastings from a different New York City Distiller, and liquor experts provide guests with all the inside information about the distillery and its signature cocktails. This Sail takes place upon the beautiful sailing yacht, the 'Shearwater'.
Finally, the offer also extends to Urban Oyster's newest food tour, the Neighborhood Eats: New York Waterfront Tour. This tour starts in South Street Seaport in Manhattan, and a NY Water Taxi takes guests over to complete the tour in Red Hook, Brooklyn. On this tour, you will learn about the past and present of food along the waterfront in both boroughs, with several delicious tastings along the way. The tour showcases local businesses that are in the process of recovering from Hurricane Sandy, and a percentage of profits from the tour are donated to Sandy recovery efforts.
There simply is no better way to enjoy New York than on the water, and Urban Oyster's sails and tours provide both local New Yorkers and tourists alike with an opportunity to enjoy the waterfront this summer.
About Urban Oyster:
Urban Oyster is a New York-based tour and events company, founded in 2009 by David Naczycz. The company has created multi-sensory, theme-based tours and events in New York City, which aim to reveal the stories behind the people and places that make the city's neighborhoods unique, vibrant, and sustainable. Each tour and event celebrates local people, businesses and institutions and serves to connect people directly to these outstanding and vital resources. By doing so, Urban Oyster hopes to contribute to vibrant and sustainable local economies. Urban Oyster offers a variety of regularly scheduled public tours and events as well as offering private tours and events that are enjoyed by native New Yorkers and visitors alike. http://www.urbanoyster.com