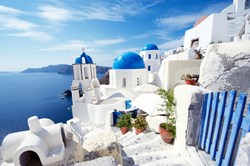 (PRWEB) July 30, 2013
A place like no other, Frankfurt Germany will astound its visitors with its rich cultural landmarks. Travelers visiting The Romerberg will find themselves at the birthplace of Frankfurt's first trade fair center which dates back to the 13th century, this historic square is home to Frankfurt's city hall which first opened its doors in 1405. Now, everyone knows that Germany is the beer capital of the world, but few know that Frankfurt is home to some of the oldest and most rivaled apple cider taverns in the world. Step into the cobblestone streets of Sachsenhausen and enjoy Frankfurt's signature "Apfelwein" (a light alcoholic apple cider) at any one of the many cider taverns found in this beautiful Frankfurt district. FlyBusinessCheap.com is now introducing Luxury flights to Frankfurt that start at just $2,585.
Art Museum enthusiasts from all corners of the world come to London, as the capital features three of the top ten museums and galleries in the world (857 art galleries total). It only takes one visit to London's National Gallery located at Trafalgar Square to set eyes on Western European Paintings that date from the 13th to the 19th century; among them, works of such masters as Van Gogh, Da Vinci, and Botticelli just to name a few. With so many astonishing places to visit, it can be hard to choose which to visit next. Fortunately, London boasts the world's highest observation wheel, one can climb aboard the London Eye and behold the breathtaking sites of more than 55 of London's most iconic landmarks before deciding which to visit next. Booking a vacation to London with FlyBusinessCheap.com, luxury flight rates start as low as $2,441.
Many identify Switzerland as being famous for its world class cheese and chocolates, and additionally, it is recognized as one of the most civilized countries in the world. Switzerland's largest city Zurich has been shown by Monocle's 2012 "quality of life survey" as being ranked first place in terms of living conditions compared to the top 25 cities in the world, furthermore, Zurich is notoriously acknowledged as the wealthiest city in Europe. This all leads to a metropolis of beautiful streets and shopping sprees. A walk down the famous street Bahnhofstrasse will validate all the acknowledgements, likened to Fifth Avenue in Manhattan, the prominent street is a shopper's paradise featuring such brands as Tiffany, Dior, Zegna, and Bvlgari just to name a few. Comfortable luxury flights to Zurich start at just $2,569.
No one can really say they have seen Europe without checking off Rome from their list. Rome is a city whose cultural and historical significance can be traced back to what was at one point the most powerful empire in the world. A tour around the world famous Colosseum will put visitors in awe as they walk around the structure whose image has been portrayed in countless stories and movies. Rome is also home to the Vatican and the Vatican Museums that feature what some argue are some of the most beautiful works of art in the world, patrons of the Vatican Museums will be enamored by the astonishing collection of art and architecture including Michelangelo's painting of the last judgment produced between 1508 and 1512 and regarded by critics as Michelangelo's most crowned achievement. Book the vacation of a lifetime with FlyBusinessCheap.com, relaxing luxury flights to Rome begin at just $2,478
Arguably one the most famous cities in the world, Paris is a city that exudes romance, class, and innovation. Known as the fashion capital of the world, the city is the birthplace of every and any new fashion trend. Probably the most well known attraction in Paris is the Eiffel tower, having had its gates open since 1889 and standing at over 1,000 feet tall with three levels, the tower is like nothing else in the world. Paris also features the most visited museum in the world, the Louvre Museum, whose plethora of world famous paintings including the "Mona Lisa" by Leonardo Da Vinci will excite art enthusiasts of all likes. Luxury flights to Paris are available for as low as $2,590.
FlyBusinessCheap.com absolutely guarantees the lowest fares on the market for international first & business class flights and they work exclusively with the world's finest airline companies.
Give them a call and you will be routed directly to one of the 100+ luxury flight specialists available in any one of three office locations in San Francisco, New York, or Chicago.
Look no further than FlyBusinessCheap.com for the easiest, fastest, no hassles discount luxury flights.