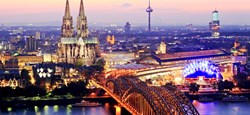 With the newly released discounts, spacious business class seats to Germany are as little as $2,680.
San Francisco, CA (PRWEB) July 31, 2013
Luxury flights from the United States to Germany are now available at significantly lower prices. FlyFirst, a leading luxury travel service, announced today that it will offer new discounts on first and business class flights to Frankfurt, Munich, Düsseldorf and Berlin. Although the discounted travel can occur at any time, flights must be booked by August 26, 2013. Discounts are subject to availability.
With the newly released discounts, spacious business class seats to Germany are as little as $2,680. "We are elated to offer these new discounts to travelers around the world," says FlyFirst Public Relations Manager Julia Graft. "In comparison, ordinary business class flights from Los Angeles to Frankfurt can run as high as $7,403. Many of our business and vacation travelers try to stick to a strict flight budget, so we are thrilled to be able to offer the space and service of business class for about a third of the regular cost."
In luxurious first class, travelers can expect to receive similarly discounted fares through August 26. Regular first class airfare from Los Angeles to Frankfurt on popular Lufthansa can cost as much as $8,077. Through its new, limited-time sale, first class fares to Germany can be as low as $3,640.
"Whether travelers choose the business class discounts or the deeply reduced fares on first class to Germany, they can expect to receive exceptional services and amenities throughout their premium travel experience," notes Graft. The new deals are available on a variety of top airlines, including Germany's award-winning Lufthansa.
"Many of our passengers who choose first class tickets aboard Lufthansa are in for a real treat," Graft says. Last month, Lufthansa earned several awards for its first class accommodations, including first place in best first class lounge from SkyTrax' World Airline Awards. First class travelers to or through Frankfurt enjoy a completely separate first class terminal offering chauffeur ground transportation and valet service; a personal assistant; lounges with armchairs, sofas and "relax" chairs; quiet rooms with daybeds; abundant cocktails, a buffet and an a la carte menu; fully equipped office units and assistance through security lines. The company also earned second place for its first class dining experience and placed in the top five for best first class cabins and best first class seats.
Business class travelers also receive their share of incredible comforts and amenities on international flights to Germany. Passengers in business class can expect to enjoy more spacious on-board seating, personal on-demand entertainment systems, stellar cuisine and a variety of reserved airport lounges, depending on the airline they choose and their destination airport.
FlyFirst has specialized in providing lower-cost international and domestic travel in luxury classes for more than eight years. Once a company dedicated to serving government officials, highly placed executives and celebrities, FlyFirst recently opened its services to the general public.
For more information about discounted business and first class flights to Germany and other European destinations, contact FlyFirst by telephone at (888)347-7817 or online at http://www.FlyFirst.com.
Julia Graft, PR Manager
http://www.flyfirst.com