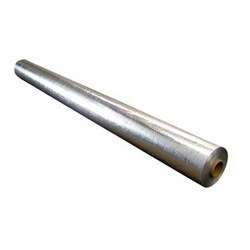 Our perforated radiant barrier has evenly spaced holes on the surface which allows air to pass through, effectively eliminating the buildup of condensation.
Urbana, IA (PRWEB) July 30, 2013
When Vera Struck founded Terra Blu Teams, it was with a simple goal: to inspire, educate, motivate, and facilitate positive change in human behavior towards a sustainable lifestyle. Constructing an eco-friendly "tiny house" that could be used as a mobile classroom seemed like a natural part of the evolution of the non-profit organization. Struck envisioned it serving as a base where she could work with individuals, families and communities to make smarter consumptive choices to live a more sustainable lifestyle.
When construction began earlier this year for the off-grid structure on an 8' x 18' trailer dubbed the "Silver Bullet," Struck began researching options for eco-friendly reflective insulation and discovered EcoFoil products. The Iowa-based company signed on as sponsor of the project and supplied perforated radiant barrier, which is designed to stop up to 97% of heat transfer through a structure. The EcoFoil product differs from traditional insulating products like cellulose and fiberglass which only slow down heat transfer.
EcoFoil product specialist David Arnold says the perforation of the radiant barrier insulation is particularly useful for tiny house structures because of its ability to eliminate the buildup of condensation, which can be a problem with small buildings like tiny house projects.
"Our perforated radiant barrier has evenly spaced holes on the surface which allows air to pass through, effectively eliminating the buildup of condensation that occurs due to the extreme differences in temperatures on each side of the structure," said Arnold. "We also sell a solid, non-perforated radiant barrier product, but it's generally for projects that require a vapor barrier, like a basement wall; our reflective bubble insulation also works well in situations where a vapor barrier is required."
The EcoFoil products also meet the qualifications Struck looks for in building supplies for her project: eco-friendly, easy to install, and cost-effective. Other highlights of the structure include a water catchment system, solar and alcohol fuel cell technology, and verminculture composting. The construction is being chronicled on Struck's blog, Silver Bullet Tiny House. She also has an Indiegogo Campaign for the Silver Bullet Tiny House.
Struck anticipates completing construction of the Silver Bullet tiny house by the end of the year and plans to tour the USA in 2014, visiting sustainability conferences and tiny house and eco communities. Colleges will also be part of the tour, with plans to offer classes in sustainable lifestyle design and management.
About EcoFoil
EcoFoil® is a leading supplier of radiant barrier and foil bubble insulation. Products are manufactured in the USA and Canada exclusively - we do not sell radiant barrier product imported from Asia. EcoFoil is a division of Clickstop, Inc., located in Urbana, Iowa. Clickstop was founded in 2005 as a manufacturer's representative and distributor of building materials to customers in the Midwest. The company expanded to develop an e-commerce business and now sells EcoFoil direct to customers in all 50 states and internationally through our website, EcoFoil.com. Clickstop has earned an A+ Rating from the Iowa division of the Better Business Bureau.