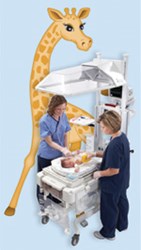 Albany Med's innovative technology will have a far-reaching impact on many families within the Capital Region and well beyond.
Clifton Park, N.Y. (PRWEB) July 30, 2013
Annese & Associates, Inc., a women-owned business enterprise headquartered in Clifton Park, has donated one high tech neonatal intensive care unit bed called a giraffe to The Children's Hospital at Albany Medical Center.
Giraffes hold premature infants, allowing the babies to be monitored, kept warm, and undergo surgery—all within the tiny cocoon. Albany Med's expansion project will scale to include 56 NICU beds.
"My sisters and I had the fortunate opportunity to tour the new facility and we were moved to tears," acknowledges Francine Annese Apy, Co-Owner/VP of Human Resources. "What Albany Med is able to do from a healthcare standpoint is nothing less than groundbreaking. Albany Med's innovative technology will have a far-reaching impact on many families within the Capital Region and well beyond."
Francine controls the 43 year old technology company alongside her three sisters, Michelle Annese, Yvonne Annese LoRe, and Andrea Annese Como. The company has strong ties to Albany Med as the Hospital recently contracted with Annese for voice, wireless, switching, and core networking services across this new Patient Tower.
"As the region's only level IV neonatal intensive care unit, having the state-of-the-art technology is critical to our mission of providing expert and compassionate care to the more than 800 infants we treat each year," said Michael Horgan, MD, Division Head, Neonatology at Albany Medical Center. "We thank Annese & Associates, Inc. for their generous gift of a giraffe bed, which is a critical tool in the care of our tiniest patients."
The largest hospital expansion project ever undertaken in northeastern New York, the 325,000 square foot Patient Pavilion will expand the hospital's number of beds from 631 to 714 and will include new operating and recovery rooms, as well as cutting-edge intensive care units for both infants and adults. The $360 million project will add 20 operating room suites, 60 medical/surgical beds, and a 1,500 space parking garage.
"Albany Med's continued growth has been driven by a tenacious and proactive focus on patient satisfaction. Annese is proud to partner with them and do our part to help promote optimal care," states Jeremy Annese, Account Manager.
About Albany Medical Center
Albany Medical Center, northeastern New York's only academic health sciences center, is one of the largest private employers in the Capital Region. It incorporates the 651-bed Albany Medical Center Hospital, which offers the widest range of medical and surgical services in the region, and the Albany Medical College, which trains the next generation of doctors, scientists and other healthcare professionals, and also includes a biomedical research enterprise and the region's largest physicians practice with 350 doctors. Albany Medical Center works with dozens of community partners to improve the region's health and quality of life. For more information: http://www.amc.edu/ or http://www.facebook.com/albanymedicalcenter.
About Annese & Associates, Inc.
Expertise. Relationships. Innovation. Throughout the past four decades, these principles have established the foundation upon which Annese & Associates has emerged as the trusted adviser to our customers, partners, and communities. With a full-circle approach to integrating communications systems, Annese wraps professional and managed services around Infrastructure, Collaboration and Data Center Virtualization solutions. Guided by our services methodology, we design an end-to-end IT experience for our clients, implementing the tools of today and administering a plan for tomorrow. Our business is the art, science, and passion of connecting devices to networks, people to people, and ideas to action.
– ### –