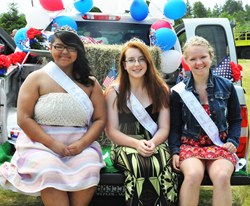 The Pacific County Fair is one of Washington's favorite and oldest regional fairs.
Menlo, WA (PRWEB) July 31, 2013
With blue-ribbon pies, 4H exhibits, amusements and tempting treats, the Pacific County Fair promises all the charm of a traditional country fair. The fair, which started in 1896, will take place in Menlo, Wash. (an hour's drive from the Long Beach Peninsula), Aug. 21 through 24, 2013.
"The Pacific County Fair is one of Washington's favorite and oldest regional fairs," said Scott McDougall, Fair Director. "It's a great opportunity for families, friends and neighbors to come together for fun, learning and entertainment while celebrating all that Pacific County has to offer."
Musical highlights include an a cappella performance by The Coats, at 2PM, Saturday, Aug. 24, followed by a concert by accomplished singer/songwriter, Scott Krippayne, at 4PM.
Also performing during the fair will be ANiTiZE, a popular rock band from Raymond, as well as Stoddard and Cole, a musical comedy duo from Oregon. A featured entertainer at several fairs on the Washington circuit, Karen Quest will bring her Cowgirl Tricks to Menlo; she will perform three times a day on Thursday, Friday and Saturday.
Fairgoers can view a wide variety of exhibits from farm animals and 4-H projects, to art, floral entries, woodworking and photography. A vintage log truck as well as new tractors will be on display. Not to be missed are the live stock auctions, fitting and showing and equestrian events. There will also be a working cow-dog exhibition by dog-teacher Marvin Pierce. Other fair delights range from fresh local oysters, cotton candy and elephant ears to carnival rides, live entertainment and the coronation of the Pacific County Fair Queen. For additional fair information, please access http://www.co.pacific.wa.us/pcfair/.
Fair admission is as follows: $10 for a four-day button, $5 per day for teens and adults, $3 for children ages 6 through 12, and preschoolers are free. Special free admission is offered to seniors on Friday and children under age 12 on Saturday. Wristband day (the wearer of a wristband purchased for $20 can go on any ride) is Friday.
The Pacific County Fair is located in Menlo, six miles east of Raymond on State Route 6 and across from the Willapa Valley Junior/Senior High School.
About Pacific County
Comprising the southwestern most corner of Washington State, Pacific County includes the communities of Tokeland, Raymond, South Bend, Bay Center, Naselle, Chinook, Ilwaco, Seaview, Long Beach, Ocean Park, Nahcotta, Surfside, and Oysterville. Pacific County is notable for Willapa Bay oysters, a 28-mile long, white-sand beach, charter fishing, historic landmarks, inland waterways, state and national parks, wildlife refuges, great restaurants, and a long tradition of hospitality.
For event and visitor information, please call the Long Beach Peninsula Visitors Bureau toll free at 1-800-451-2542, or access http://www.funbeach.com.