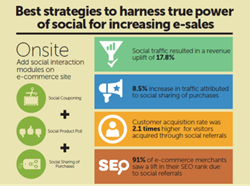 The true power of social commerce is in adding social elements in the commerce flow and not the other way around. -- Jai Rawat, CEO of ShopSocially
Mountain View, CA (PRWEB) July 31, 2013
ShopSocially today released an infographic highlighting the tremendous growth in social commerce on online retail websites. Data released by ShopSocially shows that embedding social engagement modules on ecommerce websites has resulted in impressive gains in incremental revenue, referral traffic, and new customer acquisition. The study also found a high correlation between social sharing and SEO rank.
This infographic highlights the most effective on-site and off-site social commerce strategies. Social Couponing, Product Polls and Purchase Sharing were found to be the most effective on-site social modules responsible for the following growth numbers:

Said infographic also highlights Flash Sales with built in virality as the best off-site social commerce strategy. While attempts to create full-fledged ecommerce stores on Facebook have produced underwhelming results, time sensitive flash sales have fared well on social channels. Adding a 'sharing gate' to unlock the deal can help these flash sales go viral quickly. Here are the average numbers for the viral flash sales strategy:
63% increase in sales from email campaigns with built in social virality
$17 in revenue per Facebook fan by running a viral Facebook Offers campaign
Finally, the research also shows that quality matters more than quantity when it comes to Facebook fans. High quality fans are 14.7 times more engaged and convert at a 3.2 times higher rate than low quality fans.
A deeper analysis shows the logical reasons behind the success of these strategies. Social interactions on ecommerce websites leverage the existing high purchase intent of users and combines it with the power of social signals. This results in higher engagement, word-of-mouth referrals and ultimately revenue. In contrast, social media browsing lacks purchase intent and therefore an element of urgency needs to be established in order to get users to pull out their wallets. Flash sales are perfect for that.
"Most brands equate social commerce with their ability to generate sales on social channels. That's just plain wrong," said Jai Rawat, CEO of ShopSocially. "The true power of social commerce is in adding social elements in the commerce flow and not the other way around. It is criminal to send a hard-acquired visitor away to Facebook for social validation. You must use embedded social modules to keep her on the website, to convert her to a sale, and to get her to refer her friends in the process!"
About ShopSocially
ShopSocially is a SaaS social commerce platform driving millions of dollars in incremental revenue, new customer acquisition, improved SEO rank, growth in Facebook fan base, and word-of-mouth branding for 100s of top brands.
ShopSocially platform enables a suite of onsite social apps for ecommerce sites. Examples of these apps include Ask-a-Friend, purchase sharing, fan acquisition, shopping community, social reviews and more.
ShopSocially has won several awards and has also been featured by Facebook in a Social Commerce case study. Launched in Oct 2010, ShopSocially is a privately held company in Mountain View, CA.
For contact information, please visit https://shopsocially.com/platform/contact-shopsocially.html.