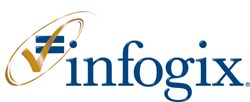 Naperville, IL (PRWEB) July 31, 2013
Infogix Inc., a developer of software that helps businesses automate the monitoring and analysis of operational data, today announced the availability of the new versions of its Infogix ACR™ products: ACR/Detail® 4.5 and ACR/Summary® 4.5. The Infogix ACR suite provides the automated information controls platform for mainframe and host based computing environments for many of the world's leading enterprises, to assure the accuracy, consistency and reliability of critical business information.
ACR/Detail and ACR/Summary are now compatible with Infogix's enterprise data management and reporting solution, Infogix Perceive®. This compatibility allows more flexibility in the aggregation of valuable Infogix ACR data and customization of tabular and graphical reports which can be shared across the organization.
Additionally, Infogix ACR 4.5 delivers new customer-driven features and enhancements that expand on the capabilities and usability of its summary and detail-level comparison capabilities. Significant usability improvements include:

File Definition Information on Cross Reference Report
User Report Semi-Auto Column Spacing
Flexible Report and Output File Print Filtering Options
New Time Separator User Option
The enhancements in this release of Infogix ACR include:

Store 999 History Items in ACR/Summary
New Message to Notify Job Progress Details
Driver Files Allow a User-Specified Driver Key Length
Hash Key Translation Feature Allows Key Storage without Dynamic Translation
To continuously meet customer's requests and needs, new features and enhancements to Infogix ACR are influenced by annual product enhancement surveys, initiated by the company to solicit feedback and meet the usability needs of its Infogix ACR customers.
About Infogix Inc.
Many of the world's largest enterprises depend on Infogix to transform their operations. Through the use of Infogix solutions, customers are able to control, analyze, and improve their operations by realizing the full value of the Infogix Business Operations Management solution. Since 1982, Infogix has been providing Infogix Controls Solutions to Global 2000 enterprises. Millions of Infogix Controls continuously monitor and assure the integrity of information in hundreds of enterprises each day. For more information, call +1.630.649.6800 (U.S, Canada, and International), or visit http://www.infogix.com today.