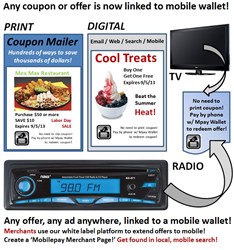 Connecting ad offers to mobile wallet for redemption is the convenience consumers want.
Orange County, CA (PRWEB) July 31, 2013
Today Mobile Wallet Media and it's founder and chief editor, Randy Smith, introduce an innovative concept of mobile or digital wallet or payment linked offers tied to a 'Universal Offer Platform and Marketing Methodology.' Mr. Smith believes this is the future of marketing and advertising offers, coupons and loyalty programs.
This innovation works by simply linking any ad to a mobile wallet or card in a manner similar to a Facebook or Twitter promotion by a business or organization. In the future rather than just saying "Find us on Facebook and follow us on Twitter," you'll hear or see the tag line in ads "No need to print or clip coupon. Just pay with mobile wallet or 'Big Bank' card to redeem offer."
This appears to be an (r)evolutionary step that connects all ad offers for redemption through a single app or card. Of course card-linked discounts and rewards have been around for over a decade, but going one step further by linking ads to mobile wallets or cards in merchants advertising has not yet been deployed (at any scale or not at all) using this new method.
Mr. Smith continues "Providing merchants a platform by which they can extend the reach and convenience of offers enhances revenues and ROI. If merchants are getting a higher response rate on offers, they are left with a win-win choice of choosing to accept more sales with higher discount or reduce offer discount, accept lower sales, but gain enhanced ROI and margin."
Adding value and extending the reach of the marketing dollar for merchants is crucial for success. Mr. Smith states "This is the runway for mobile and digital wallets to take off and fly high. It's long been said that mobile payments alone will fail and cards work well 'as is'. Mobile/digital wallets extend the reach of paying with any card or currency. When paired with offers and rewards they offer unparalleled loyalty to this new found convenience. Compare the time, money and hassle savings achieved with a mobile/digital wallet to redeeming paper, email or any digital offers not linked to a card or wallet. This is much like the convenience afforded with an iphone or Android phone vs. a feature phone."
Of course cards added to mobile or digital wallets will still produce the rewards or discounts associated with them. However, Mr. Smith conveys "Card-linked offers vs. mobile/digital wallet linked offers will battle for market share and redemption through the mobile wallet. Merchants may prefer the reach and flexibility of platform to control and connect their offers to mobile and digital wallets over cards. Plus there could be channel conflict from merchants not wanting consumers to double dip or enable automatic redemption of an offer without clicking to activate the offer through a mobile or digital wallet. Merchants are focused on profit as much as they are customer service, product and revenues."
In retail, when all else is equal regarding retail brand and products offered, convenience sets one apart from other competitors. This new method of linking all advertising delivers added convenience.
Mr. Smith continues "Digital currencies shall thrive through mobile wallets and deliver lower processing costs vs. credit or debit cards. Mobile wallet-linked offers paired with digital, gift or merchant coalition currency reduces the wholesale cost of transactions. With everything integrated horizontally and vertically through a mobile wallet, cost pressure is placed on both payments and marketing ends of the equation. Mobile and digital wallets can offer both with the greatest reach and choice."
Mr. Smith concludes "This linking of ad offers to the mobile and digital wallet is also a gateway to mobile loyalty programs, that will also enable redemption of earned rewards through the mobile wallet."
Mr. Smith will be attending The Financial Mobility Summit in August to cover the latest industry developments. Read the complete story.