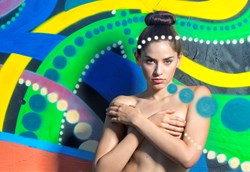 I loved the clothes and the photos looked beautiful
Loris, South Carolina (PRWEB) July 31, 2013
Nestled below the Fashion District of Miami is an up and coming hotspot for artists - the Wynwood Walls. Street-art is the dominate medium in this neighborhood with most of the buildings dressed to impress with an emerging "Nu Age" style of design and illustration. CMMS Studio collaborated with Tanya-Marie Design of Miami to extend the style of the street art with her couture line.
Renowned community revitalizor Tony Goldman first came up with the idea for the Wynwood Walls when he was looking for a way to transform the warehouse district. The warehouses there were abandoned and deteriorating after much of the manufacturing moved overseas. Tony decided that utilizing street artist's raw talent and allowing the non-windowed walls to be treated as blank canvas was the best idea. The world's greatest artists in graffiti and street art were asked to come in and help turn the streets into a museum.
"Street art" or "graffiti art" has always been looked down upon historically. It has never been shown the proper respect or attention that it deserves until recently with the hipster movement. The graffiti that was once seen as vandalizing or a criminal act is becoming more popular and is starting to be used around the world as a true form of art. The artists themselves use many different themes, most of which are political in nature.
Since the start of the Wynwood Walls project back in 2009, the area has really picked up. The area is now known as The Wynwood Arts District and is the home of many artists, art galleries, eclectic shops and Bars. There is also The Wynwood Fashion District which feeds off of the art community.
The worldly style of the Wynwood Art District was a perfect backdrop for Tanya-Marie Design's multifaceted, versatile couture line. Marisol Medranda and Taylor Skye were chosen as models to communicate this vision. The texture of the wall played a key role in deciding what fibers to intertwine with it. In addition, the patterns, shapes, color, and lines were crucial in knowing where to place the models. "I loved the clothes and the photos looked beautiful!" Taylor said shortly after the photo shoot.
Miami is filled with fierce passion. A passion that can be nurtured through artistic expression. Tanya-Marie Design, the Wynwood Walls, and CMMS Studio are exuberant ingredients for a magnificent casserole of expression at its finest.