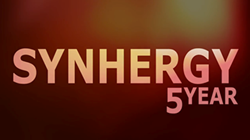 Los Angeles, California (PRWEB) July 31, 2013
TenTen Wilshire's award-winning rooftop lounge recently solidified its place among L.A.'s elite entertainment venues by playing host to a blowout fifth anniversary celebration for social media marketing firm SYNHERGY and corporate marketing and event planning team A Gadsby Affair. Envisioned as collaboration between SYNHERGY, A Gadsby Affair and 1010 Wilshire, June 20th's "Mixing Pleasure with Business" celebration attracted dozens of local business leaders and entertainment luminaries. In addition to showcasing the talents of SYNHERGY's creative team and A Gadsby Affair's incomparable event planning skills, the event highlighted 1010 Wilshire's stunning views and impressive range of amenities.
"Mixing Pleasure with Business" was made possible by strong support from a range of SYNHERGY's and A Gadsby Affair's partners and sponsors. As a cutting-edge social media marketing enterprise that recently received a "Small Business of the Year" designation from the U.S. Chamber of Commerce, SYNHERGY works with some of the most dynamic businesses and non-profit organizations. A Gadsby Affair offers its clients global perspective in its unique and customized experiences and events, resulting in creative, strategic marketing solutions with recent recognition from Forbes.com.
Many of these partners and sponsors were on hand for the event itself. Arriving guests were treated to luxurious black-car service from local chauffeur firm UBER and pampered by 1010 Wilshire's own Bumblebee Personal Assistants. Chef Jaydene O'Connor provided an assortment of fine hors d'oeuvres throughout the evening, and Beachy Cream Ice Cream offered cool treats to active guests. Guests were pampered to a spa-like experience by the Powder Room, featuring hair, makeup and massage. Local lighting and design firm Source One provided lighting and direction for the event while DJs Nick Dang (Decoy Nick) and J. Paolo kept the beats coming all night long. Professional photography consortium Junai Weddings handled photography and videography. CR&A Custom grand format printers and the Print Girls were responsible for the eye-catching signage that helped guests navigate the festivities.
A Gadsby Affair's staff coordinated with other SYNHERGY partners and sponsors to provide libations as well. While locally renowned cigar maker Luis Mejia made his entire M. Cigars line available to members of the public, Lagunitas Brewing Company, HINT Water, Auchentoshan Whisky and Montalvo Tequila provided liquid refreshments.
With an eclectic melange of clients and guests mixing and dancing on the TenTen Wilshire rooftop until well into the evening, "Mixing Pleasure with Business" was judged by all to be a resounding success. TenTen Wilshire looks forward to maintaining its fruitful partnerships with A Gadsby Affair and SYNHERGY for future events.
For more information about SYNHERGY's marketing services, visit http://www.synhergy.com or call 877-860-4515. For more information about A Gadsby Affair's event marketing, visit http://www.agadsbyaffair.com or call 310-773-9482. More information about the "Mixing Pleasure with Business" event can be found at http://ow.ly/nmUrH.
About TenTen Wilshire
Located in the heart of downtown Los Angeles, TenTen Wilshire is Southern California's premier lifestyle center for on-the-go entrepreneurs and professionals. In addition to its award-winning rooftop lounge, TenTen Wilshire offers a generous range of amenities and services. The conveniently located building enjoys on-demand access to local transportation arteries as well as the headquarters of the region's most successful companies. TenTen Wilshire's common areas include a private gym and health spa, an extensive pool and Jacuzzi complex, a billiard and ping-pong setup, and a private screening and performance room. Each luxurious residential suite features fully furnished living areas and work spaces, value-added items like rugs and hanging art, complimentary high-speed Internet and cable connections, and state-of-the-art kitchen and washroom appliances. In addition, TenTen Wilshire is renowned for modern office suites that feature business-grade data connections, sleek furnishings, receptionist services and on-site management.
To inquire about hosting an event at TenTen Wilshire's rooftop lounge, call 877-338-1010. More information about long-term or short-term leases for office or residential space in the building can be found at http://www.1010wilshire.com