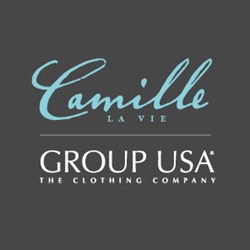 This acquisition will enhance our online presence by offering a much wider range of styles to choose, while furthering our mission to deliver a one-stop shopping destination to customers looking for the perfect dress
Secaucus, NJ (PRWEB) July 31, 2013
Camille La Vie & Group USA President Denise Viotti announces the strategic acquisition of eDressMe, a robust technology platform that powers a multi-tier, successful online dress and accessory business including http://www.eDressMe.com and eDressMeProm.com. Founded in 2002, by Joanne Stoner, eDressMe was a pioneer in e-commerce and early on established a strong presence online both domestically and internationally. Milestones of the company's success include longevity of significant search engine rankings, maintaining the #1 position in organic search for the niche of cocktail dresses for 8 consecutive years and driving traffic to record heights.
Both companies specialize in women's social occasion dresses. Their union joins Camille La Vie & Group USA's brick and mortar locations, including camillelavie.com with eDressMe.com's online presence to expand reach, improve scalability and enhance the merchandise assortment for both. Founder and CEO Joanne Stoner joins Camille La Vie & Group USA's executive team and will continue to grow their online presence. Stoner's previous apparel experience includes buying for Saks Fifth Avenue and management at Liz Claiborne. She was an e-commerce director for Lucent Technologies and Vice President of Sales & Marketing for 4R Systems, a successful software startup. Stoner has an MBA from the Harvard Business School.
Denise Viotti says of the acquisition: "We are thrilled to welcome Joanne Stoner and eDressMe to the Camille La Vie & Group USA family. With Joanne's 25 years of collective experience in the apparel and e-commerce industry, she has garnered tremendous success in pioneering the online dress business. This acquisition will enhance our online presence by offering a much wider range of styles to choose, while furthering our mission to deliver a one-stop shopping destination to customers looking for the perfect dress for their special occasion, with a more expansive selection of trends tailored to each person's tastes and personal style."
Joanne Stoner adds: "The strong synergy between the two companies fosters further development of eDressMe and promotes the growth of Camille La Vie. The combination gives Camille La Vie & Group USA a major foothold in e-commerce."
About Camille La Vie & Group USA
Camille La Vie & Group USA is a major dress destination for prom dresses, homecoming dresses, wedding dresses, bridesmaid dresses, accessories and shoes. They offer one of the most extensive collections of special occasion dresses that can be found under one fashion roof. Since its inception in 1985, the company's motto, "to provide customers with the latest dress fashions at an affordable price," has made them a leading retailer in virtually all categories. To date, Camille La Vie & Group USA has expanded to a total of 25 stores nationwide.
In select Camille La Vie & Group USA stores, customers will discover a collection of bridal including wedding dresses, bridesmaid dresses, flower girl dresses, mother of the bride dresses and guest of wedding dresses. Camille La Vie & Group USA also provides bridal alteration and consulting services. So whether your style is classic and elegant or modern and chic, Camille La Vie & Group USA will outfit stylish women of all types without breaking their bank.
If you're in a committed search to score the perfect dress, Camille La Vie & Group USA is your one stop boutique to all things party dress chic. Follow Camille La Vie & Group USA on Facebook for all the latest updates and fashion alerts at facebook.com/camillelavie.groupusa.