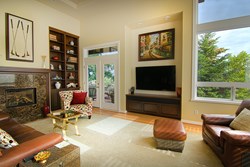 You can do a lot by changing the look of a place; you don't always need a whole house remodel.
Portland, Oregon (PRWEB) July 31, 2013
Portland remodeler Hammer & Hand announced completion of a 1990's mansion remodel in Tigard, Oregon. Focusing on light and textures, the collaboration between interior designer Vida Shore and Portland remodeler Hammer & Hand provided a much-needed facelift to outdated kitchen and family room.
"You can do a lot by changing the look of a place," said Hammer & Hand project supervisor Christopher "Coop" Cooper. "You don't always need a whole house remodel."
The remodeling team sanded the floors back to their original red oak look, cut down the fitted carpet to make large area rugs, and sourced new wood to complete the hardwood surface without visible seams. The Tigard remodel also included newly built cabinet doors and a sleek TV stand, all finished with a dark stain to add more contrast to the home.
"The dark cabinets make the house look fuller and richer," says homeowner Stan. "Remember, the previous whitewashed cabinets were installed 18 years ago! It was the trendy thing back then."
The kitchen remodel focused on surfaces rather than structural elements. Stan chose the granite pattern for the countertops and left it to Coop to source the materials in Eastern Europe. Where the new range was an inch deeper than the old, Hammer & Hand reconfigured the cabinet underneath.
The Tigard remodel also included energy upgrades to the home, increasing efficiency and comfort. The team replaced 33 recessed lights with more energy efficient models and the bathrooms and laundry room got state-of-the-art WhisperGreen Panasonic fans, which help control moisture, odor, and temperature and optimize air quality.
The homeowner is considering having the 10-foot crawl space under the house insulated, as well as new mechanical systems and a master bathroom remodeled.
"That will happen in the winter, when we're in Arizona," said Stan. "Where it's warm and I can play more golf."
About Hammer & Hand
Hammer & Hand is a construction company dedicated to inciting evolution in building through service, science and craft. The firm collaborates with clients and architects to build the best of the Northwest, from new custom homes, to residential remodels, to commercial renovations.
Hammer & Hand Portland
1020 Southeast Harrison Street
Portland, OR 97214
http://hammerandhand.com
(503) 232-2447
Hammer & Hand Seattle (at The Bullitt Center)
1501 E Madison St, #250
Seattle, WA 98122
http://hammerandhand.com/seattle
(206) 397-0558