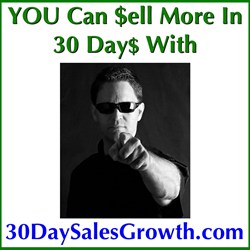 Sales is the straw that stirs the drink.
Temecula, CA (PRWEB) August 08, 2013
"Sales is the straw that stirs the drink," says Wes Schaeffer, The Sales Whisperer®. Despite the proliferation of social media tools, tactics, gimmicks and tricks, businesses are still struggling to reach their sales goals because they are forgetting that social media and all forms of marketing and advertising exist to make the phone ring. How a salesperson answers that phone, engages with the prospect that walks onto the showroom floor, how follow-up meetings are coordinated and planned will make or brake one's business.
Until now, professional salespeople with a desire to grow have been limited to either buying books on sales training, taking off work to attend expensive, one or two day seminars that don't stick, or commit to long-term, expensive private sales training.
Today there is a new alternative: 30 Day Sales Growth. This is an online, affordable, practical sales training program for busy professional salespeople, sales managers, business owners and entrepreneurs that are motivated to get better but need more flexibility in how they learn and develop their skills.
In this program, The Sales Whisperer® has poured his 19+ years of sales, marketing and advertising expertise that has been honed in such diverse arenas as retail sales, real estate, financial services and high tech. Schaeffer has successfully sold to behemoths such as Google, Apple, Dell and Verizon as well as his local realtor, mortgage broker and promotional items company.
Schaeffer is a firm believer that opportunity abounds, as long as one is prepared to both see it and take advantage of it. Better preparation includes better sales training.
About The Sales Whisperer®
Wes Schaeffer is The Sales Whisperer®, a sales and marketing industry leader who works with and specializes in the Infusionsoft sales and marketing platform. He and his team of Infusionsoft Certified Consultants educate, support and train clients on sales and marketing practices including social media, SEO, email marketing and ecommerce.
Visit http://www.thesaleswhisperer.com to learn more about the company, and discover how it can help your business grow.