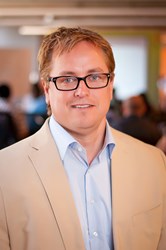 'When we partner with a client, we take pride in delivering high quality solutions, adding unquestioned value, being easy to work with and transferring knowledge to enable them to be self-sufficient when we leave.' -- capSpire CEO Lance Laubach
Fayetteville, AR; Tulsa, OK; Houston, TX (PRWEB) August 27, 2013
capSpire, a global consulting and solutions company, announces a new service offering focused on assisting clients with the Allegro commodity trading and risk management (CTRM) software platform. capSpire will leverage their deep domain knowledge around commodity trading and risk solutions to establish a high level of consulting expertise for the Allegro platform.
"Allegro is experiencing rapid growth and expansion in North America, Europe and the Asia-Pacific region. To keep pace, Allegro relies heavily on a network of implementation partners who have expertise in our products and solutions. We're happy to add capSpire to our list of highly trained and industry savvy consultants," says Dave Perotti, Allego SVP of Global Services.
To ensure success, capSpire invested in knowledgeable senior technical and functional resources with extensive experience developing and implementing the Allegro platform. The combination of resources will allow capSpire to deliver expert level advice for commodity-industry specific issues and deliver innovative technical solutions for the Allegro platform.
capSpire CEO Lance Laubach says the new Allegro consulting division will maintain the same high standard of quality offered through the firm's existing consulting practices.
"The new Allegro service offering will follow the same formula that makes our existing consulting practices highly valuable to our clients. When we partner with a client, we take pride in delivering high quality solutions, adding unquestioned value, being easy to work with and transferring knowledge to enable them to be self-sufficient when we leave," Laubach says.
capSpire wasted no time gaining traction with the new Allegro service offering. Teams of employees are actively engaged with and working on-site at multiple clients across North America.
Additionally, capSpire is actively training the firm's experienced CTRM consultants on the Allegro platform and will incorporate training around Allegro into the firm's boot camp training program for new hires. The firm is also currently recruiting new all-star hires with experience in the Allegro platform and the commodities industry. Candidates looking for a challenging career with excellent growth potential are urged to apply.
To learn more about capSpire CTRM services visit http://capspire.com/capspire-services/.
About capSpire
capSpire is a global consulting and solutions company that creates, customizes, and implements meaningful technology for commodity trading organizations. With a focus on commodities trading, risk management, and complex enterprise content management; capSpire also creates valuable business process and technical solutions, such as the capSpire Gravitate Portal. capSpire offers an unparalleled level of services including IT strategy and planning; system selection and integration; and ongoing production support. Headquartered in Northwest Arkansas, with an office in Tulsa, Oklahoma, capSpire serves Fortune 500 companies in the Americas and Europe. Visit http://www.capspire.com for more information.
About Allegro
Allegro is a global leader in energy trading and risk management solutions for power and gas utilities, refiners, producers, traders and commodity consumers. With more than 29 years of deep industry expertise, Allegro's enterprise platform drives profitability and efficiency across front, middle and back offices, while managing the complex supply chain associated with physical commodities. Allegro provides customers with agile solutions to manage risk across natural gas, power, coal, crude oil, petroleum products, emissions and other commodity markets, allowing decision makers to hedge and execute with confidence. Headquartered in Dallas, Texas, Allegro has offices in Calgary, Houston, London, Singapore, Sydney and Zurich, along with a global network of partners. To learn more visit http://www.allegrodev.com.