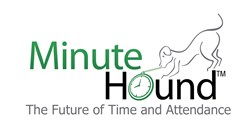 Generating simple, secure, and accurate time records is MinuteHound's basic principle
New York, NY (PRWEB) August 13, 2013
MinuteHound now offers a cloud-based time clock solution for companies with employees whose work location varies among multiple sites. Using biometric time & attendance technology along with cloud-based software accessible from any Internet-connected location, MinuteHound can keep employee time records current without consolidating site records at a later time.
MinuteHound time and attendance software is cloud-based, which means that the location of the fingerprint scanner used for clocking in and out can be anywhere with an Internet-connected PC, even at a facility in another state. Costing around $99 and installable by almost anyone, scanners can be located at each company facility with all records saved on MinuteHound's servers.
The rituals and problems associated with paper time cards and even electronic time clocks are relics which MinuteHound is ready to displace in favor of a quick few seconds at the fingerprint scanner. Generating simple, secure, and accurate time records is their basic principle.
Where the company excels is once the timekeeping data is in the system. Capitalizing on their advanced technology, MinuteHound has built a network of servers dispersed geographically for reliability which stands ready to not only gather time clock data from as many employees and locations as a company needs, but organize and present the data in real time.
Real time data means managers with Internet access at work, home, or while traveling can check individual and aggregate data. It also means that when employees have responsibilities at a variety of sites, the payroll department can still download time records that are timely and highly accurate, ready to process for payday. MinuteHound's genius is that they use advanced technologies to make work life simpler.
Advantages to the company from MinuteHound's new system include eliminating many of the problems involved with multi-site work. Employees will know that they can trust the system wherever they scan in and out, and know that they won't be sorting out time card problems later if they volunteer for an assignment at another site.
They'll also know that the fingerprint-based system only works for them, so there's no "buddy punching" or other temptations involved with being away from their usual supervisor's watchful eye. MinuteHound keeps everything above board, and workers get paid for the time they worked.
Timekeeping, the company believes, can liberate companies to get work done the way they need to. Where workers go, MinuteHound can be there to keep accurate time and identify workers in a way that makes solid, reliable records. What could be a chaotic situation as labor is deployed in the most effective ways becomes a breeze. A new flexibility becomes the way of doing business, even if it means recycling a few old style paper timecards along the way.
MinuteHound's new cloud-based time clock can be deployed at multiple locations, allowing key employees the mobility to punch in and out at whichever facility they're needed. Accurate, reliable time records are stored on MinuteHound servers, and even when life is moving quickly, time records keep up and payroll does too.
MinuteHound Contact Information
Website: http://www.MinuteHound.com
Email: info@MinuteHound.com
Phone: (800) 351-7237