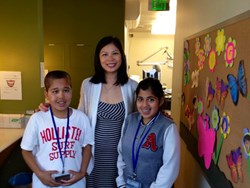 I've been feeling great with my braces. I feel more confident in eating with them now. I am really happy to have braces to get my teeth back to normal. My sister and I thank you so much for this opportunity. - Yeltzin Mendoza
Palo Alto, CA (PRWEB) August 22, 2013
Residents of the Midpeninsula area now have another reason to smile! The Board of Directors announced two of the six orthodontic scholarship recipients: Yeltzin (16 years old) and Elixua (15 years old).
Yeltzin and Elixua are siblings from East Palo Alto and attend Woodside High School. Both have a rare blood disease known as Diamond Blackfan Anemia disease where they are not able to make any red blood cells. They have not responded to any treatment and are dependent on monthly blood transfusions. As part of complications from their blood transfusions, they have developed Type 1 diabetes and are insulin dependent. In addition, the older brother, Yeltzin has developed a growth hormone deficiency and is treated with growth hormone supplements. He is often made fun of at school and does not look forward to going to school. Their mother is a single mom of four, and is so grateful that Yeltzin and Elixua are able to have this life changing opportunity. "I would like to thank Dr. Eric Wu and his entire team for their work. We are very grateful for the help you've given my two kids. The kids are happy knowing there will be a nice change in their smile. They've also had great success in their diet and nutrition. They've managed to maintain their glucose controlled thanks to the service they've received. We are happy and thank you once again,"--- mother of Yeltzin & Elixua.
Dr. Eric Wu, of Wu Orthodontics, created the foundation to provide braces at no cost to underserved children in the Midpeninsula area. "The mission of Smile for a Lifetime Midpeninsula is to create self-confidence, inspire hope and change the lives of children in our community," Dr. Wu explains, "The gift of a smile can do all this for deserving, underserved children who, in turn, will use this gift to better themselves and our community. Having the opportunity to change the lives of the Mendoza siblings in such a dramatic way is what this program is all about."
Smile for a Lifetime Midpeninsula is accepting applications and awards six orthodontic scholarships annually.
Click here to learn more about S4L.