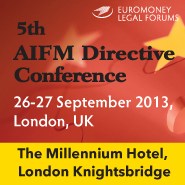 Excellent content and speakers. Some extremely helpful market insights!
London, United Kingdom (PRWEB UK) 13 August 2013
July 22nd 2013 is the deadline for the AIFM Directive to be implemented into national law. The changes demanded by the Directive will have huge implications for the industry and how it operates on a day to day basis. Yet, despite four years of consultation, controversy and debate, many crucial details of the legislation are still far from clear.

Are you fully up to speed on the requirements around capital, delegation, depositories, transparency and disclosure
How will you manage any potential conflicts of interest?
Have you put in place procedures for the valuation of fund assets, and for risk management?
These are just some of the questions which will be answered at Euromoney Legal's 5th AIFM Directive conference. This timely event, taking place not long after the July implementation date on 26th and 27th September 2013 in London, will enable attendees to benefit from the most up to date information and advice on the practical steps that need to be taken to ensure full compliance with the legislation.
Hear direct from national regulators. This is your unique opportunity to learn how different national regulators are interpreting the legislative requirements of the AIFM Directive and transposing it into national law. Find out how the FCA, the Central Bank of Ireland, the Autorité des Marchés Financiers(AMF) from France, Netherlands Authority for the Financial Markets and BaFin of Germany will deal with issues around passport approvals, marketing to retail investors, transitional arrangements and more.
You will also benefit from the experiences of other fund managers on how they are operating under the new AIFM Directive regime. Take the opportunity to ask the leading legal experts how to interpret the legislation as it affects your business.
To find out more, please contact Lavina Advani from Euromoney Legal Forms at ladvani(at)euromoneyplc(dot)com.
Euromoney Legal Forums is part of Euromoney Legal Training. Euromoney Legal Training is the leading legal training provider of high quality, practical training across the UK, Europe, Middle East & Africa. Since 1991, over 20,000 lawyers, bankers, and other professionals, from the world's major banks (and other financial institutions), companies, government bodies (both national and international), and law firms, have benefited from our expertise.