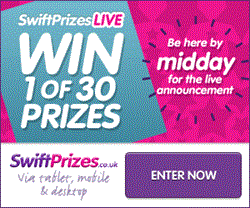 SwiftPrizes.co.uk this revolutionary site is home to the UK's 1st LIVE Prize Draw.
London, United Kingdom (PRWEB UK) 1 August 2013
The world of comping is booming in the UK, thousands of genuine prizes are given away every year. The well established prize forum on MoneySavingExpert.com, stated that in early 2013 'its users had scooped hundreds of thousands of pounds worth of prizes', from a variety of recommended sources. It is a compers mission to enter and win prizes for free on a regular basis. We would like to introduce an innovation in this exciting world, ideal for the competition novice or pro.
SwiftPrizes.co.uk is a ground breaking new prize site that puts prizes at your fingertips! The site is home to the UK's 1st LIVE Prize Draw. It is beautifully designed for mobile, tablet and desktop use. Members are free to comp at their own leisure any time, anywhere. This authentic prize site is already giving away prizes with hundreds more planned throughout the year, including holidays, gadgets, experience days, beauty and much more.
SwiftPrizes LIVE is the site's eagerly anticipated LIVE game. The science of a prize draw dictates that users are simply in it to win it, and leaves chance to Lady Luck. However with this draw, the power is in the compers hands. SwiftPrizes LIVE is the fast paced daily game that allows members to play head to head with other users. The process is as simple as this:
Play Each Day > Login > Watch To Win.
From a range of 30 prizes, the aim is to enter as many as a user can to achieve the best possible odds. Then boost their entries further by completing optional offers and questions. Players can watch their odds rise against other LIVE players and boost their entries further! Users must make sure they are logged in ready for the LIVE draw. This highly competitive and fun game is set to make waves in the comping scene.
Launch Date: Thursday 1st August 2013
Thursday 1st August – Wednesday 7th August 2013 LIVE prize draw @ Midday
From Thursday 8th August LIVE prize draw @ 8pm
SwiftPrizes is approached regularly by great brands and so the future is bright with sponsored prizes and third party relationships. With new prizes added almost every week who knows what could be won in the coming months! With the SwiftPrizes.co.uk winners gallery growing already there is no better time to be a part of the action.