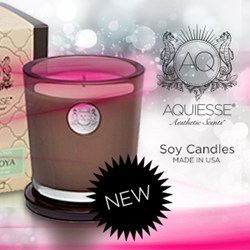 Soy candles are known to burn longer, cleaner and create less pollution than regular wax candles.
New York, NY (PRWEB) August 06, 2013
A Silver Breeze now offers the new line of natural soy candles from Aquiesse. The brand's founder, Michael Horn, has collaborated with world renowned perfumers in creating this sophisticated Portfolio collection, inspired by the rich coastal region of central California.
The Portfolio collection features soy candles and reed diffusers made from all-natural ingredients. These candles are made with the purest wax developed from soy beans, coconuts, led-free wicks and all natural oils. Soy candles are known to burn longer, cleaner and create less pollution than regular wax candles.
The Aquiesse soy candles , available at A Silver Breeze, come in thick smoked glass or tin containers with hidden compartments for matches, and are available in small, large and travel size formats. They can burn anywhere between 20 and 100 hours depending on the candle's size. These soy candles retail between $5.00USD and $36.00USD and come in scents of Luxe Linen, Pacific Lime, Vanilla Orchid, French Oak and more!
The Portfolio collection also features reed diffusers that come in elegant smoked glass containers which can accent any home's furnishings, and can last up to 6 months. The diffusers are also made of all-natural ingredients including soy beans and natural oils. They retail at A Silver Breeze for $44.00USD and come in scents of Bamboo, Passion Fruit, Figs and Cypress and Mandarin Tea.
About A Silver Breeze
A Silver Breeze was founded with a philosophy in mind: give women the freedom to be themselves and embrace a sense of style that's unique to each woman. A Silver Breeze offers women quality sterling silver jewelry that is interchangeable, from collections like Kameleon, Chamilia, and Bella Ryann. A Silver Breeze also offers gift ideas like Aquiesse Soy Candles, WeWOOD wooden watches and Natural Life Gifts and accessories.
Stores are located at the Aviation Mall in Queensbury, New York, at 516 Broadway in Saratoga Springs, New York, and online at: http://www.asilverbreeze.com. Please visit the online store to see all the available collections. A Silver Breeze ensures every customer's shopping experience will be an unforgettable one.