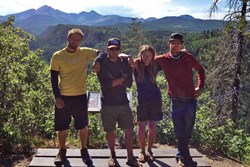 I don't see a reason for me to leave something so positive.
Flagstaff, Arizona (PRWEB) August 13, 2013
The transition program is geared toward residents who have completed the initial Back2Basics rehab program, and are looking for further guidance in meshing sobriety with a day-to-day routine, career path or education.
Roy DuPrez, Back2Basics founder and CEO has recognized the opportunity for a transition program, and has been working alongside transition staff to fulfill that need. "Beyond the Basics provides a sober, stable, structured environment where the guys can continue to apply life skills and grow from their Back2Basics foundation," DuPrez states.
Spencer graduated from the Back2Basics program two years ago, and has been working for the company since.
"Staying sober is a constant struggle. It's easy for me to sympathize with the guys here" said Spencer. "I know how intimidating leaving [Back2Basics] is after being in a structured program for the last six months; Beyond the Basics helps these guys make that first step. It's the perfect transition to living in the real world."
Back2Basics graduates are given the opportunity to enroll in the transition program. "They will continue to do both individual and group therapy, work on their 12 steps, have the opportunity to take classes at the university, and participate in an internship designed to accommodate their interests," DuPrez explains. "All of this is to prepare them for a successful, sober future."
Recently, Back2Basics celebrated the graduation of four residents. After completing the initial six month program, all have opted to enter the transition program. "I'm so excited to be functioning and have this positive program to look forward to. I cannot wait to actually live my life for the first time in a long time," said Beyond the Basics resident, Jordan.
He will start his transition as a maintenance intern for Back2Basics while attending classes at the local community college. "I took a metal shop class in high school and really enjoyed it, but I lost that passion when I started using. Now, I plan to get experience interning for Back2Basics and pursue welding as a career," said Jordan.
When asked why he decided to go "Beyond the Basics," Liam, another recent grad noted, "Flag[staff] has become my home and I've gained a really solid group of friends here. I don't see a reason for me to leave something so positive."