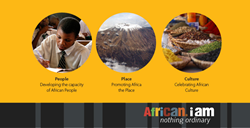 african.iam is the identity of every African, whoever and wherever they are.
Gaborone, Botswana (PRWEB) August 01, 2013
The two-day occasion starts with the african.iam launch dinner on the evening of day one, October 28, 2013, followed by the african.iam inspired Botswana 200 Business Assembly on October 29, 2013.
africani.iam is the identity of Africans, whoever and wherever they are. It is there to develop the capacity of African People, celebrate African Culture and promote Africa the Place.
Zimbabwean born CEO and Founder of Brand Africa Global and african.iam, Audra Wilson-Max says, "With african.iam we create an entirely new and dynamic global space and purpose for Africa and Africans."
She adds, "The reality is, african.iam is the story for over one billion people on the African continent and when added to those beyond, it means at least 34% of the entire world's population. So, whether you're an African on the African continent, African American, Jamaican, German, Australian or any other African, african.iam introduces a neutral and communal platform for social and commercial engagement that brings with it unprecedented possibility."
Through african.iam the '200 Market' is uncovered at the Botswana 200 Business Assembly - the first african.iam event. The 200 Market reveals a land mass of over nine million square kilometers, equivalent to the size of the USA or China. With a GDP of more than US$600 billion and population of more than 200 million people, it includes Angola, Botswana, Democratic Republic of the Congo, Lesotho, Madagascar, Malawi, Mauritius, Mozambique, Namibia, Seychelles, South Africa, Swaziland, Tanzania, Zambia and Zimbabwe.
The inaugural Botswana 200 Business Assembly is a marketing and investment platform that exists to drive and unlock the potential of Africa's growing Southern African market.
A line-up of outstanding local, regional and international thought leaders and subject experts at the event will concentrate on addressing and stimulating the assets of the markets Mining, Finance, Insurance, Agriculture, Travel and Tourism and the inevitable role of Technology, which cuts across all.
One thousand business leaders, experts, investors and media will be drawn from a combination of Southern African, African and international markets to convene in Botswana's capital city, Gaborone.
"Between the launch and celebration of african.iam on one day and Botswana 200 Business Assembly the next, we expect to begin a journey that reveals what for many, for so long seems to have been so invisible," says Audra Wilson-Max.
###
african.iam is the identity of every African, whoever and wherever they are. The effect of african.iam is revealed in social and commercial activity built on three key anchors:

People. Building the capacity of African People
Culture. Celebrating African Culture
Place. Promoting Africa the Place
african.iam is inspired by Brand Africa Global.
Brand Africa Global is an African network agency focused on the value of branding and communication as critical ingredients to build compelling African brands that impact the [commercial + social] development and competitiveness of Africa and Africans.
The Botswana 200 Business Assembly is an african.iam event.
For more information contact:
The african.iam Media Team
Tel: +263 712 211632
media(at)african(dot)iam(dot)com