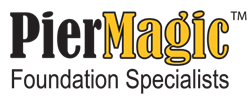 Homeowners think more about watering their lawns than their foundations. But foundations cost more to repair than lawns. Watering your foundation is critical in the summer."
- Matt Price, Owner, PierMagic Foundation Specialist
(PRWEB) August 01, 2013
Summer is a dangerous time of year for foundations across the nation. As temperatures soar and soil loses moisture, these changes can wreak havoc on a home's foundation. When a home is built, the soil surrounding the foundation acts as a support keeping the walls where they belong. When extended droughts cause the soil to shrink, that support system is pulled away and foundations move and crack.
There are a couple of things homeowners can do to prevent foundation problems caused by summer heat:
1. Continue to water your lawn as often as city restrictions allow. (Water conservation is important, but if you have to choose between watering your foundation and your lawn, your foundation is more important.)
2. Use a soaker hose around your foundation. Soaker hoses are a wise choice because they allow the water to penetrate the ground before it can be lost to evaporation.
3. Add soil to fill any cracks that appear in the dirt around your foundation. These cracks can fill with water and expand when it rains causing serious ground movement deep below the surface.
4. Install root barricades. Large trees located within 20-30 feet of your foundation (Oaks, Ash, etc) have extensive root systems that extract large amounts of water from the soil. This can cause major damage to your foundation.
PierMagic can repair foundations, but the best action for homeowners is to avoid damage in the first place. To learn more about PierMagic Foundation Specialists, visit http://www.piermagic.com.
Press release distributed by http://www.marketingxchange.com.