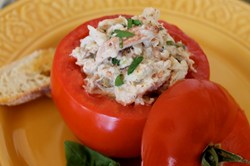 Los Angeles, CA (PRWEB) August 01, 2013
What visitor to New Orleans would leave without having tried a seafood dish like a gumbo or remoulade, or any number of innovative seafood dishes prepared every night by the city's growing number of creative restaurants? Situated on the Gulf Coast, seafood has always played a major role in New Orleans cuisine. Chef Gisele Perez, a New Orleans native who loves to showcase the delicacies of her home town, shares two of her favorite warm weather salads that bring together the best of New Orleans food.
Both recipes feature a key ingredient found in many New Orleans dishes: Ravigote, a traditional sauce born from the classic mother sauce, mayonnaise. From the French word Ravigoter, meaning to refresh or reinvigorate, this easy-to-make, piquant sauce is perfect for cool summer meals and pairs well with any type of seafood salad.
"I love using Ravigote in many of my recipes," Chef Gisele explains. "A fusion, both in composition and flavor, this French-Creole sauce is traditionally used with cold seafood, particularly crab and shrimp. The tartness comes from the combination of ingredients such as capers, scallions, onion, and basil."
During the dog days of summer, Chef Gisele suggests these delectable light seafood salads that will keep home cooks out of a hot kitchen and dreaming about the Gulf Coast.
Crabmeat Ravigote Stuffed Tomatoes
Makes 4 servings
"Last summer I was in New Orleans for the New Orleans Wine and Food Experience just before the start of the Creole Tomato Festival. Seeing all the signs about those luscious Creole Tomatoes turned my thoughts to stuffing the Louisiana beauties, so I created this recipe. I hope you'll give this great Louisiana light luncheon dish a try, as we hit our peak tomato season."
1 pound lump crabmeat
1/2 cup of Sauce Ravigote (recipe follows)
4 medium to large ripe beefy tomatoes*
1. Drain excess water from the crabmeat, and pick through it for bits of shell.
2. Add the Sauce Ravigote to the crabmeat, mixing gently with a wooden spoon or rubber spatula, so as not to break the lumps.
3. Using a sharp steak knife, cut out the center of the tomatoes starting at the core and working out in a concentric circle. Reserve the tomato meat for sauces or salsas. Salt the inside of the tomatoes lightly, then fill with the dressed crabmeat.
4. Garnish with additional minced parsley and/or basil chiffonade.

For a finer presentation, you may peel the tomatoes first, by blanching them briefly in boiling water, then immediately cooling them in an ice water bath. The skins will then peel off easily.
Shrimp and Tortellini Salad with Sauce Ravigote
Makes 6 servings
"This recipe is versatile. You can mix in whatever vegetables you have on hand - artichoke hearts and slow oven roasted cherry tomatoes would be excellent!"
1 pound cheese tortellini, cooked and cooled slightly
1/2 pound cooked shrimp, split in half
1 small bunch asparagus (@8-9 spears), roasted and cut into 1/2 inch pieces
1/2 large red or yellow bell pepper, roasted, peeled and cut into 1/2 inch dice
1/2 cup Ravigote Sauce
Parsley, basil and or chives to garnish, snipped
Combine together the tortellini, shrimp, asparagus and roasted pepper in a large bowl. Gently mix in the Ravigote. Garnish with snipped herbs.
Sauce Ravigote
There are many variations of this sauce but this is my favorite version.
1 egg
Juice of 1/2 a lemon
1/2 cup Creole mustard
2 cups vegetable oil
1 teaspoon prepared horseradish
1/2 teaspoon hot sauce
2 tablespoons capers
4 scallions, chopped
Chiffonade of 2-3 large basil leaves
1 tablespoon parsley, chopped
A healthy pinch of freshly ground white pepper
1. Add the egg to the bowl of a food processor and pour the lemon juice over it. Let stand for one minute, then add the mustard.
2. Turn on the food processor, and dribble the oil in slowly through the feeder tube.
3. Stir in the remaining ingredients.
Recipe may be reprinted with the following credit:
Copyright Gisele Perez – PainPerduBlog.com
About Chef Gisele Perez
A recognized food blogger and columnist, New Orleans native Gisele Perez, is an established chef in Los Angeles, California, with her company, Small Pleasures Catering. Immigrating to Los Angeles from New Orleans as a child, Gisele grew up traveling back and forth between the two cities, which instilled in her a love for New Orleans that has become an integral part of her life and career. A graduate with honors from the renowned California Culinary Academy, Gisele worked in some of the finest hotels, restaurants and catering companies in New York and San Francisco before returning to Los Angeles and starting her catering company in 1997. While some of her catering specialties may not be New Orleans-specific, everything she cooks, every buffet decorated, is influenced by it. When Gisele is in her kitchen she is constantly reminded of her grandmother, at whose knee she stood as a young child, questioning her as she cooked for her large family. Gisele has been featured in numerous regional publications and on local television. To learn more about Gisele, visit her blog site, http://www.PainPerduBlog.com, and her company website, http://www.SmallPleasuresCatering.com.