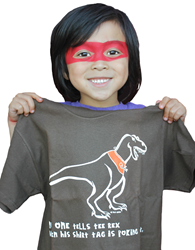 Kids light up when their parents join in the fun and wear something that reflects the kids' interests.
(PRWEB) August 01, 2013
Only the most tolerant of parents actually embrace matching their clothes to their kids, but geeky t-shirt company Tees For Your Head knows very well that kids are enthusiastic about the practice.
Kids light up when their parents join in the fun and wear something that reflects the kids' interests. It makes them feel important and truly seen and understood. It's also easy to do when Tees For Your Head can fit any family member from toddlers who wear a 2T to adults who wear a 6XL.
Here's a little ordering secret that isn't even on the official website: if a certain color of t-shirt isn't shown as available on a particular design but it's available on other designs, just email "info" at the company and see if it can be done. Sometimes there are colors in the design that keep it from being offered. For example, if the tee is green, and the design contains green leaves, those leaves may not show up so it might not be possible to use the green tee. But other times, there's nothing preventing a special order being printed.
And since Tees For Your Head prints on demand, shirts are printed only when ordered. This means that it's possible to create custom color combination t-shirts very easily at no extra cost! This opens up a world of possibilities for special occasions, not just events like the celebration of Family Fun Month every August. It's something to keep in mind for birthday parties, work groups (apparently there are a few tech companies that allow t-shirts to be worn to work), and other casual events.
For a playful contest in the spring of 2013, Tees For Your Head provided costumes along with their t-shirts, and photos were then posted for voting on the company's Facebook page. The lucky winner was the handsome little guy, Kainoa, who's shown here holding up his prize selection: the Don't Mess With T Rex t-shirt that matches one bought by his big sister, down to the chocolate brown tee it's printed on. See how it makes him smile?
Parents can make their kids smile like this: consult the kids, find a shirt that speaks to their interests, and get the same or coordinating shirts for kids and parents. Use different colors of tees if that suits everyone's fancies, or go completely matching.
And if dinosaurs are not of interest to the kids, perhaps pirates are just the thing. Especially pirates with other interests. Tees For Your Head has funny pirate t-shirts for math, science, or art-loving family members, and they can be mixed or matched as appropriate.
Optical illusions are also popular because they're fun for all age groups: illusions are like a magic trick on a t-shirt. The science-minded adult knows that an optical illusion is constructed by the brain because seeing is really a process of interpretation. The brain is constantly seeking shortcuts, and it has a standard bag of tricks it employs when information is missing or ambiguous. For example, the optical illusion t-shirt Phantom Triangles appears to contain colored triangles, when it really doesn't. Here the observer's brain pulls out its much used transparent filter effect to create the triangles. This is just one reason eyewitness testimony, and one's own memory, are less reliable than commonly assumed.
Tees For Your Head designer Karin Carter had kids (of all ages) in mind when she created the Je Ne Sais Quoi t-shirt, which crazily combines sophisticated French and an invented Internet phrase. As Carter says,"The I Can Has Cheezburger website actually has lots of very clever captions on photos of animals. Just try to come up with your own-- you'll see that it's very difficult to top the ones they publish. One of the catchphrases they've invented is 'I haz it,' and I used that on this shirt because I like the silliness of the contrast with the French. And wouldn't it be cute to watch your kid running around in this t-shirt? What kid doesn't have that certain something, a certain, shall we say, joie de vivre?"
Or for a bit of tongue in cheek commentary on the odd doings of humans both big and small, Tees For Your Head suggests dressing the clan in the t-shirt The Ways of Your People Are Strange.
For kids who are a bit older, and who have been bitten, so to speak, by the zombie craze: the Cuidado t-shirt might be just the thing to get the whole family moving in the same direction. Lurching slowly, even, searching for those nice neighbors who need to be persuaded to come out to play...
On a serious note, Tees For Your Head is honored to be the source of official South Pole Telescope team t-shirts. These tees are created yearly and handed out once to team members only, and after that, they are available exclusively through Tees For Your Head's online store. The same design provided to team members can be printed on different blank styles, including toddler and kid sizes and women's cuts. So even years later, 2009 South Pole Telescope team members (or any extragalactic astrophysics fans of any year) can order team tees for all the members of the family.
Celebrate Family Fun Month in style.
About Tees For Your Head
The online home of geeky t-shirts for lovers of the arts and sciences was launched in 2012. Husband and wife team Tom Bates and Karin Carter have an arts and science background and create their own designs to appeal to the geeks of the world. Santa Cruz tee shirt designs are in the works for this Santa Cruz-based business.
By the way, Tees For Your Head shirts are worn on the body, not really on the head. Just a helpful hint.
Find their unique and nutty tees at http://www.teesforyourhead.com online now. Visit the Tees For Your Head YouTube channel, too to check out their growing collection of videos. Be sure to join the conversation by leaving feedback, because Tees For Your Head would love to hear what people think!