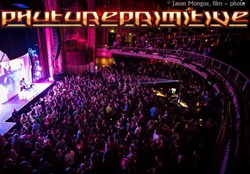 "We'll combine scenic locations, dance, projection mapping and jaw-dropping video effects to create an explosive tale of love and redemption." ~ Rain
San Francisco, CA (PRWEB) August 01, 2013
Producer and songwriter Rain, also known as Phutureprimitive, has launched a Kickstarter campaign and partnered with a team of visual artists to create "Lucid Dream," his first official music video. Through his collaboration with multi-media production team Vinton Depiction, the project aims to tell a story that explores the duality between technology and nature being bridged by art. The project also includes renowned visual effects creator Michael Miller of NBC's "Grimm," and lighting designer Michael Bowles. "We'll combine scenic locations, dance, projection mapping and jaw-dropping video effects to create an explosive tale of love and redemption," says Rain. (http://www.kickstarter.com/projects/phutureprimitive/phutureprimitive-music-video-lucid-dream)
Rain began DJing in the 90s, which led to producing original electronic music under the Phutureprimitive moniker. His debut album "Sub Conscious" still remains a top seller on Waveform Records since its release in 2004, and has since reached cult status among fans. He then released the "Luminous EP" on his own record label, Native Harmonix. His second album, "Kinetik" was widely acclaimed, and remains on the iTunes Top 100 Electronic Music Chart, 2 years after its release. He is about to embark on his first national headlining tour in support of "Searching for Beauty in the Darkest Places," his latest album released in two parts, with Pt. 2 coming out this Fall.
Since Kickstarter's launch in 2009, more than 4.5 million people have pledged over $723 million, funding more than 45,000 creative projects. This platform allows fans to contribute and create along with artists and projects they support. One such example of a successful campaign has been Alex Grey's Entheon, which not only raised $210,000 of its $150,000 goal, but became the second most funded art project in Kickstarter history. The Electronic Dance Music community has applied Kickstarter to invite their community to participate in the process of supporting and generating art.
Keyframe-Entertainment is joining in support of the "Lucid Dream" project by partnering as Executive Producer. "I've been following Rain's musical journey since his track in Alex Grey's film long ago," says Julian Reyes of Keyframe-Entertainment. "We included his music in Electronic Awakening and followed his tour with Shpongle. I'm in full support of his new music video project, as it further demonstrates that he is a true pioneer in conscious electronic music and transformational culture."
To cover the costs involved in creating "Lucid Dream," Phutureprimitive has pledged to raise $10,000 by August 15, 2013. Several rewards packages have been created in order to thank the range of donors.
To visit the Kickstarter campaign, go to http://www.kickstarter.com/projects/phutureprimitive/phutureprimitive-music-video-lucid-dream.
About Keyframe-Entertainment: Keyframe-Entertainment bridges underground Electronic Music culture and the mainstream through transformational media (Film, Music, Visionary Art, Community Building, Social Networking, and Events). Keyframe was launched 2004 as a music label and artist management company and over the years expanded its scope to include supporting conscious EDM films such as Electronic Awakening (Directed by Andrew Johner) and The Bloom Series (Directed by Jeet-Kei Leung).